BA pensioners fight change to inflation-proofing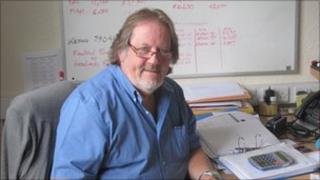 Thousands of former BA staff are in revolt against cuts in the future value of their pensions.
Earlier this year, the trustees of the Airways Pension Scheme (APS) decided to stop using the retail prices index (RPI) to uprate pensions each year.
They decided to start using the more slowly rising consumer prices index (CPI) instead.
Their decision to opt for CPI has seen three trustees resign, mass meetings of members being called in protest at the decision, and the threat of High Court action.
Graham Tomlin, a former BA engineer and one of the trustees who resigned, says the decision was against the interests of the scheme's members.
"The members are outraged, absolutely outraged," he says.
"The problem is the dramatic difference between CPI and RPI - CPI is not, we argued, an appropriate index for inflation because it doesn't include housing costs."
Big difference
The impact of switching from RPI to CPI is that APS pensioners received a rise in April this year of 3.1% rather than 4.6%.
The two inflation rates were calculated at the scheme's benchmark month of September 2010.
If those rates of inflation, with that 1.5% difference, were replicated every year for the next 20 years, then someone now receiving an APS pension of £10,000 would eventually get an annual pension of £18,415 with CPI instead of £24,583 with RPI.
That is 25% less - a cash difference of £6,168 a year.
In March and April, three elected trustees of the APS resigned in quick succession, in protest at the stance of the trustee board, which failed to vote in favour of using its discretionary powers to stick with RPI.
The board had said it would still consider making discretionary top up payments each year, over and above the CPI-related increases to which it is now committed.
But it will not adopt RPI as a permanent feature.
"Whilst APS is not fully funded, it is difficult to reconcile taking action which would be detrimental to the funding position with the primary duties of the trustees to ensure that existing benefits are secured to the maximum possible extent," the trustees said a letter to members.
That was not good enough for Mike Post, a former BA pilot and another of the trustees who resigned.
"They could have given us a discretionary increase this year and chose not to," he says.
"I am not prepared to be part of a board that has not acted in the best interests of the members.
"My feedback is that everyone [in the scheme] supports me, I have had thousands of e-mails of support," he adds.
Unusual power
APS is one of BA's two final-salary schemes and was closed to new members in 1984.
Most of the members are pensioners or their dependents, with only about 800 current staff still paying in.
The scheme's rules state that it will adopt whichever method of inflation-proofing is used by the government for the public-sector pension schemes, as stated in its annual pension increase orders - a legacy of the days when BA was in state control.
But the specific rules of the APS also give the trustees the unusual power to amend their own rules, in the interests of members, without company approval - and thus to keep on using RPI instead, if they choose.
It was their decision to move to CPI anyway that has provoked so much discontent.
"We always had paid RPI, every member expected RPI. In the past we were told we would get RPI," says Graham Tomlin.
"The beneficiaries have been told to expect RPI, in a number of documents from the pension fund, as well as British Airways saying it to staff."
Employers' savings
The move to CPI for the public-sector schemes was first announced in the June 2010 Budget by the Chancellor, George Osborne.
It was explicitly to cut the cost of funding pensions for the likes of civil servants, NHS staff, teachers and others.
It is now becoming clear that when pension schemes adopt this change they are saving huge sums of money, both for themselves and the employers.
At BA, the company's two final-salary schemes have between them saved £770m from their combined deficit of £3.7bn.
BT, which incorporates government policy on this matter into its own pension scheme rules, has revealed that the change has knocked £4.3bn off its deficit.
At the Royal Mail, the change has helped reduce its pension-scheme deficit by £3.5bn.
Actuaries Aon Hewitt carried out an opinion poll last autumn which revealed, not surprisingly, that most people did not understand the significance of using CPI rather than RPI to provide some form of inflation-proofing.
Lynda Whitney, of Aon Hewitt, says the penny is now starting to drop, albeit slowly.
"The average member of the public does not understand the changes," she says.
"Pension-scheme trustees are getting to grips with their own rules and structures, and trade unions are publicising the issues."
Considering options
With the help of the Association of British Airways Pensions (ABAP), the three former trustees of the APS are leading a campaign to pressure the trustee board into changing its mind.
More than 2,000 APS members supported a call for the scheme to hold mass meetings of members to discuss the issue.
So many have said they want to attend that there will now be two meetings, one after the other, at Ascot racecourse on 11 July.
A consultative ballot of all the 30,000 APS members is taking place, asking them, among other things, whether they want increases linked to RPI to be "hard-wired" into their scheme rules.
Two of the three trustees who resigned are now standing for re-election.
And the pensioners' association is planning to pursue the issue to the High Court.
"We are going to get private pension provision that is going to get smaller and smaller - and that is unforgivable," says Mike Post.
The APS trustee board declined to be interviewed by the BBC.
A spokeswoman would say only that "they are dealing with what they can and can't do, and are considering all their options, and the input on the funding position."