China's property rating downgraded on tightening credit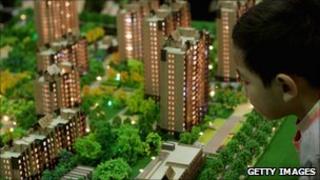 Rating agency Standard & Poor's has downgraded its outlook for China's property market from stable to negative due to the country's tightening credit policy.
The agency said as credit becomes more restricted there was a possibility of a downturn in the sector.
The news comes as latest data showed that foreign direct investment (FDI) in to China slowed down in May.
Rising property prices have become a hot political issue in China.
Restrictive policy
Beijing has been trying to rein in lending in an attempt to control surging property prices.
On Tuesday, China's central bank raised the reserve requirement ratio for the banks to a record high of 21.5%, effectively reducing the amount of cash that they can lend.
Government figures also showed that Chinese banks made fewer loans in May compared to April.
The agency said that all these measure are likely to hit the sector hard.
"We're likely to see more negative rating actions in the next six to 12 months," said Standard & Poor's credit analyst Bei Fu.
"Tightened onshore credit conditions and increasingly restrictive government policy have deepened the market downturn," Ms Fu added.
Slowing investment
While authorities have been working towards restricting domestic credit, the rise in foreign investment in China has also slowed.
According to the commerce ministry, FDI was $9.2bn (£5.6bn) in May, a rise of 13.4% compared with the same month last year.
This was lower than April's 15.2% increase and less than half of March's 32.9% year-on-year surge.