Royal Mail profits fall as mail volumes decline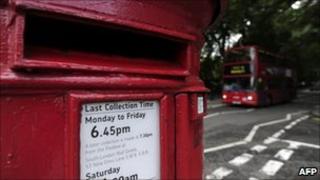 Royal Mail has reported sharply lower annual profits, due in part to falling mail volumes.
Operating profit, including the costs of modernisation changes, was £39m in 2010, down from £180m in 2009, the group said.
It blamed falling revenues after the number of letters and parcels carried last year fell by 4%.
Royal Mail also said it would be making further job cuts and mail centre closures as it tries to reduce costs.
"With the decline in our volumes, we are going to be a smaller company in the future than we are today," its chief executive Moya Greene said, adding that it would be "disrespectful" to put a figure on the number of jobs that will go.
Previous cuts have been made through voluntary redundancies and Ms Greene said she was confident that no compulsory redundancies would be needed.
'Financial difficulty'
The job cuts are part of Royal Mail's modernisation programme, which it says is one of the biggest of its kind undertaken in the UK.
The measures, agreed with the union after a long industrial dispute, involve 7,000 jobs going each year. But that number now looks set to rise, says BBC employment correspondent John Moylan.
Royal Mail expects to close up to 20 mail centres over the next five years. Each one can employ about 1,000 people. Jobs will also go at delivery offices as new sorting machinery is introduced.
This will all be in addition to the 45,000 jobs which have gone from the UK letters and parcels business over the last five years, reducing the total number of staff to about 163,000.
"Royal Mail has been in significant financial difficulty for a number of years," said Ms Greene.
"Our challenge is to put [it] on a sound, secure and sustainable footing."
It has invested £400m in the modernisation process in the past financial year.
It has also been announced that Moya Greene has been paid £637,000 in the nine months since she took on the job.
Those payments are made up of £350,000 in salary, a performance bonus of £142,000 and other benefits of £145,000, which includes payments to cover the cost of her relocating from Canada.
'Tipping point'
The Communication Workers Union (CWU), which represents most postal workers, said the changes under the modernisation programme were putting a severe strain on staff and said it could not rule out further strike action.
"Royal Mail's biggest challenge is to recognise that postal workers are working harder than ever and are now at a tipping point," said CWU deputy general secretary Dave Ward.
"We understand the need to modernise the company, but Royal Mail must accept that people come first and the pace of change can only be dictated by what people can cope with," he added.
Royal Mail's results showed the financial strain the company is under.
It is technically insolvent as its liabilities, including its pension fund, exceed the value of its assets.
The size of the pension fund deficit has however, almost halved, from £8bn in 2010 to £4.5bn in 2011. Royal Mail said it had paid £771m into the pension fund during the financial year.
The drop in liabilities is largely due to the government's plan to change the inflation measure used to calculate pensions from RPI to the typically lower CPI.
Meanwhile the government is proceeding with plans to sell or privatise Royal Mail. The Postal Services Act received royal assent this week.
The change in regulation will allow the government to take on the pension burden and for the potential sale or privatisation of the business.