India wholesale inflation rate rises more than expected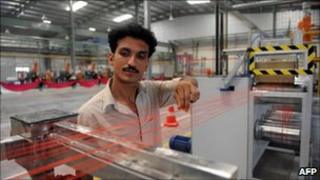 Indian inflation rose faster than expected in May, raising expectations of a further interest rate rise.
The wholesale price index rose by an annual rate of 9.06%, up from the April figure of 8.66%.
The rise was driven partly by an increase in the price of manufactured goods, with the rate of food and fuel inflation both falling.
The Indian central bank will announce its next decision on interest rates on Thursday.
Analysts had expected a smaller rise in inflation as some global fuel and commodity costs fell in May.
Annual fuel inflation in May remained high, but fell to 12.32% from 13.32% in April.
This occurred despite increases in petrol prices by Indian refiners in the middle of May.
But the growth in costs of manufactured goods - a key component of India's wholesale price index - accelerated to 7.27% from 6.18% in April.
"The big surprise is mainly because of the sharp increase in manufacturing prices," said Nomura economist Sonal Varma.
It means "core" inflation, which strips out the impact of changing global commodity costs on domestic prices, may be increasing.
Food inflation eased to 8.37% in May, from 8.71% in April.
Rate rise
Analysts say the figures make it more likely that the Reserve Bank of India will increase rates.
"This cements the case for a 25 basis points rate hike on Thursday," added Mr Varma.
It would be the 10th rate increase since 2010.
In May, the Reserve Bank of India raised the rate at which it lends to commercial banks to 7.25% from 6.75%.
Further rate rises may be limited by concerns over economic growth.
The country's economy grew by 7.8% in the first quarter compared with the same period last year, according to government figures.
It was the slowest pace of growth in five quarters.
For the financial year to March, the economy grew by 8.5%, which was lower than the government's forecast of 8.6%.
Inflation is a particular concern in the fast-growing economies of Asia.
In China, the consumer price index rose by 5.5% in May reaching a 34-month high, as food and commodity prices continued to rise.