House prices and sales still falling, surveys show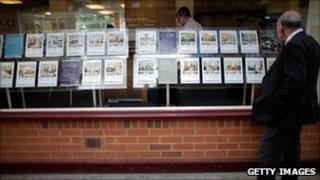 House prices and sales are still under pressure, surveys have suggested.
The government's own house price survey says UK prices fell by 1.1% in April to leave them 0.3% down on a year ago.
A survey of chartered surveyors said that potential buyers were still being put off by economic worries and continued mortgage rationing.
And despite a rise in mortgage borrowing in April, the Council of Mortgage Lenders (CML) said lending was unlikely to rise further this year.
Regional differences
The government's house price survey is published by the Department for Communities and Local Government (DCLG).
It confirms the downward trend shown in other surveys, from lenders such as the Halifax and the Nationwide, and the Land Registry for England and Wales.
The DCLG survey also highlights the widespread variation in house price trends around the UK.
In the past year, prices have been unchanged in England, but have fallen by 15.2% in Northern Ireland, by 1.4% in Wales and by 1.2% in Scotland.
The biggest increase during that time has been in London, with prices up by 3.6%.
Interest 'flat'
The Royal Institution of Chartered Surveyors (Rics) survey covered 257 members who work as estate agents in England and Wales.
It found that there had been a slight fall in enquiries in May from potential new buyers, but a rise in the number of houses being put up for sale.
As a result, sales per estate agent fell to their lowest level of the year so far, at just under 15 in the previous three months.
Prices continued to drop as well.
The survey found that 28% more of the estate agents had seen prices fall than rise in the previous three months, though the falls were generally small, at less than 2%.
"Buyer interest in purchasing property remains flat across much of the country and there is little sign of this changing any time soon," said Rics housing spokesman Ian Perry.
"Uncertainty over the economic outlook remains as important as the availability of mortgage finance in depressing demand."
'Muted summer'
According to the CML, the number of new mortgages agreed with home buyers has now risen for four months in a row.
New loans to home buyers rose by 8% in April to 40,900, although this was still 2% lower than in April last year.
The CML said recent Bank of England figures on mortgage approvals suggested new lending would not increase any more in the coming months.
Michael Coogan, the CML's director general, said: "The market continues on a stable footing and the increase in house purchase lending is a good sign that the stability will continue throughout 2011."
"However, the economic outlook, coupled with Bank of England subdued approvals data for April, suggests a muted summer for mortgage completions so we do not expect further increases in lending over the coming months," he added.
There was slight easing in the financial burden on first-time buyers.
In April they had to put down a typical deposit of 20% of their property's value, compared with 21% in both March this year and April last year.
"[The] CML's latest figures cannot paper over the fact that the mortgage market remains stagnant, and it is first-time buyers who are worst affected," said Jonathan Moore, of flatsharing website easyroommate.
"Despite the miniscule increase in the average loan-to-value, would-be buyers are being forced to stump up an average deposit of nearly £26,000 at a time when living costs are spiralling and rents are at a record high," he added.