Nokia and Apple settle patent dispute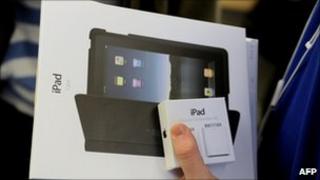 Nokia and Apple have agreed a technology licensing agreement that ends the long-running legal dispute between the two firms.
"The agreement will result in settlement of all patent litigation between the companies," Nokia said.
Nokia sued Apple for patent infringements in 2009 and extended the action in December last year.
Apple had countersued, accusing Nokia of infringing its patents.
Nokia said Apple had agreed a one-off payment, the value of which was not disclosed, and ongoing royalties to use its technologies.
Apple said the deal covered both companies' patents.
Counter claims
"We are very pleased to have Apple join the growing number of Nokia licensees," said Nokia's chief executive Stephen Elop.
"This settlement demonstrates Nokia's industry-leading patent portfolio and enables us to focus on further licensing opportunities in the mobile communications market."
Apple said the two firms had agreed to "drop all of our current lawsuits and enter into a licence covering some of each other's patents, but not the majority of the innovations that make the iPhone unique".
"We're glad to put this behind us and get back to focusing on our respective businesses."
'Positive news'
Nokia's various claims against Apple included alleged patent infringements of touch interfaces, caller ID, display illumination, and 3G and wi-fi technology.
Apple had also claimed that Nokia had infringed many of its patents.
Both sides had always denied each other's claims.
"This is the first positive news from Nokia for a long time. They can both focus on their businesses now, and the dispute was settled to Nokia's advantage," said Mikael Rautanen at research group Inderes in Helsinki.
At the end of last month, Nokia said it expected sales and profit margins for the current quarter to be well below its previous forecasts.
The company has been struggling to reposition itself in the rapidly-growing smartphone sector, where it is trying to make up ground lost to competitors such as Apple's iPhone and phones using Google's Android operating system.