Tesco sales growth remains strong outside UK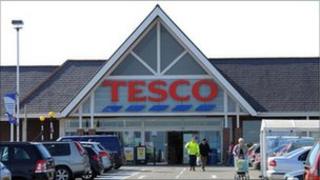 Tesco has reported strong sales growth overseas for the first three months of its financial year, but the UK remains subdued.
Group sales were up 7.3% versus a year ago, excluding petrol and ignoring the dampening effect of the stronger pound.
The result was driven by international demand - notably in Thailand (up 8%), China (6.4%) and Eastern Europe.
In contrast, UK like-for-like sales excluding petrol and the effect of VAT fell 0.1%.
That was worse than the 0.6% growth expected by market analysts, and Tesco's share price fell five pence to 402p at the start of Tuesday trading in London, while the rest of the market rose.
Tesco makes about two-thirds of its sales and profits in the UK.
"Tesco was always going to be swimming against the tide with this update," said Richard Hunter, head of UK equities at Hargreaves Lansdown Stockbrokers.
He said that market expectations had been too high, given the anaemic UK retail environment.
"In all, Tesco seems to be seen as tomorrow's story. The planks to its strategy are in place, particularly in furthering international diversification."
Plus points
The 0.1% fall in UK sales was nonetheless an improvement on the three months before, when like-for-like sales - which exclude the effect of changes in shopfloor capacity - were down 0.7% from a year ago.
Tesco blamed the "cautious consumer environment" and the burden of high fuel costs for the weak underlying growth figure, but said that it was still doing better than rivals.
However, there were some plus points in the UK market.
The firm pointed to an "excellent performance" in newly opened stores - which are excluded from the like-for-like figures. Overall UK sales excluding petrol were up 4.9%.
And sales of its "Finest" food range rose 10%, as "customers seek out quality alternatives to eating out".
Meanwhile, Tesco Bank saw a 20% increase in revenue.
Tesco plans to start offering mortgages through its rapidly developing financial services arm later this year.
'Good start'
Tesco also reported a continuing strong turnaround at its loss-making "Fresh n Easy" US business, where like-for-like sales growth accelerated to 11%.
But some individual national markets did underperform the UK, such as post-earthquake Japan (down 6.4%) and the recession-hit Irish Republic (down 3.9%).
The results give a first indication of how the supermarket chain has fared since its long-time chief executive, Sir Terry Leahy, stepped down in March.
His replacement, Philip Clarke, said: "Tesco has made a good start to the new financial year, despite consumer sentiment in many of our key markets remaining subdued.
"Uncertainties remain, but with early, encouraging signs of better performance emerging in both the UK and US, I am confident that this start will provide the platform for another year of growth."