Japan's cabinet approves Tepco compensation scheme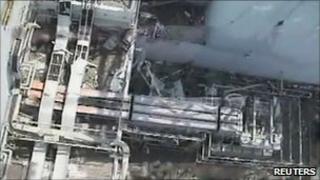 Japan's cabinet has approved a plan to set up a fund to help Tokyo Electric Power (Tepco) compensate victims of its tsunami-crippled nuclear plant.
The plan still needs to be approved by the Japanese parliament.
Earlier this year Tepco reported a loss of $15bn (£9.2bn) and may have to pay more than $100bn in compensation.
Japan's other nuclear power operators will make annual contributions to the fund and the government will also inject money if necessary.
Trade Minister Banri Kaieda, whose ministry regulates Tepco, said the government aimed to submit the bill to parliament as soon as possible.
Tepco shares surged 25% after the approval.
Support vs default
While the news of the plan approval has been a good one for Tepco and its investors, analysts said they are worried about how the plans will be finally implemented.
Daisuke Fukutomi of Standard & Poor's said that there is still uncertainity about how much money Tepco will have to pay and how it will handle its debt.
"A number of senior politicians have made statements that the creditors should also bear some losses as the whole population is suffering," he said.
"Hence, we think there will be some form of restructuring of debt, which according to us is a kind of default," he added.
However, Mr Fukutomi said that given the current situation, Tepco and the government did not have many options.
"Losses are hurting Tepco's credit profile," he said.
"We think some kind of support from the government will be necessary," he added.
Mr Fukutomi added that one form of support may be giving some respite in terms of debt repayment, but that also accounts for a kind of default he said.