No Southern Cross homes to close until at least October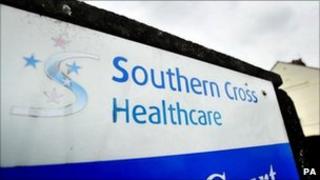 Southern Cross has reached a deal with its landlords under which no care homes will be closed in a transition period that will last until at least October.
The landlords also told the BBC that they were prepared to make "significant financial concessions".
They said that it was likely the Darlington-based firm would survive under a different name with the number of homes falling from 751 to about 500.
They have been in talks with Southern Cross, which is unable to pay its rent.
The landlords' committee represents the 80 landlords who own the company's 751 care homes.
"Our overriding concern at this time remains minimising disruption and concern for residents and their families," the committee said in a statement.
Debt write-offs
There will be a crucial meeting between landlords, the government and Southern Cross on Wednesday.
It is expected to discuss proposals from the landlords under which they will accept long-term reductions in rent as long as the government and banks write off some of the money they are owed by Southern Cross.
The proposals may also allow for landlords to take back their properties and find other operators for them.
Southern Cross is the UK's largest care home operator, employing 44,000 staff caring for 31,000 residents.
Earlier, the chairman of Southern Cross reassured residents that they would continue to receive care and defended the business model which many argue has pushed the company towards collapse.
Christopher Fisher told the BBC care "will be sustained" across its homes, by Southern Cross or another operator.
He added that the company would be in a worse position if it had borrowed money to buy homes, rather than renting them.