Unison union warns of 'prolonged industrial action'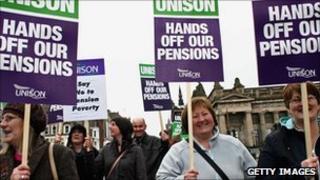 The UK's biggest public sector union, Unison, has warned that it is "on the road to industrial action" over changes to public sector pensions.
Its general secretary, Dave Prentis, said there would be sustained strike action this autumn if a deal can't be reached in talks with the government.
If there is no agreement at a final meeting on 27 June, Unison plans to ballot its members, he said.
The government said it was "totally committed" to the talks.
Mr Prentis has been leading the talks for the unions alongside Brendan Barber, general secretary of the TUC.
But he said those discussions were not going well: "We haven't made any progress really on the big issues," he said.
'Serious talks'
In order to try to reduce the rising cost of public sector pensions, the government is seeking a 3% increase in employee pension contributions, which amounts to a doubling for many public sector staff.
Unions say that plans under discussion also include reducing pension benefits and expecting staff to work for longer.
But the government said public sector workers would continue to get a guaranteed pension level - something, it said, "very few private sector employers still offer".
"This government's key priority is to ensure that public service pensions remain among the very best and that is why we are currently engaged in ongoing and serious talks with the TUC," said Cabinet Office Minister Francis Maude.
"We have entered into these talks in good faith and are totally committed to them - as we believe are the union representatives taking part - including Unison.
Mr Maude said that in the event of strike action the government would ensure that "essential services" were maintained.
'Major dispute'
Speaking ahead of Unison's annual conference next week in Manchester, Mr Prentis said the union was preparing the membership register for a ballot which would be one of the biggest undertaken in the UK.
Balloting would take several weeks but he is convinced its outcome is assured.
"I've got no doubt whatsoever that everything is being put in place to enable us to win the ballot," he said.
Mr Prentis said the union was looking at how to ensure that the industrial action was sustainable. "This will be a major dispute," he said.
"It will not be one day of action - it will be long-term industrial action throughout our public services to prevent destruction of our pension schemes."
Unison represents 1.3 million workers across in areas including local government, health care, education and the voluntary sector.
Separately, 750,000 public sector workers are already due to strike on June 30th.
On Tuesday the National Union of Teachers (NUT) and the Association of Teachers and Lecturers (ATL) will reveal the result of their ballot for industrial action over pension changes.
The following day the Public and Commercial Services Union (PCS) will publish the result of its ballot over jobs, pensions and pay.