NHP controls fate of Southern Cross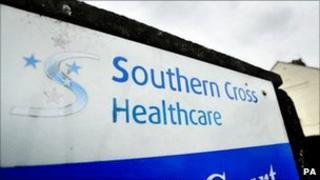 The most troubling statement that the chairman of Southern Cross Christopher Fisher made on Radio 4's Today Programme this morning was that in any of its typical care homes with a capacity for 50 residents, Southern Cross makes a profit if 46 of the beds are occupied and a loss if occupancy falls to 43.
Or to put it another way, profit margins are so slim that a 6.5% swing in occupancy levels is the difference between corporate life and death.
Now two momentous conclusions follow from what would be described in the business as this extreme operational gearing.
First, all the negative publicity surrounding Southern Cross is killing the company - because any uncertainty about it's future makes it harder for Southern Cross to persuade families and local authorities to place vulnerable elderly people in its homes.
Why would anyone choose a Southern Cross home when it is unclear who will be running the home in a few weeks time - and when, for all Mr Fisher's protestations that wholesale closures of homes are very unlikely, he can't guarantee stability unless and until it's creditors guarantee that?
But if occupancy in Southern Cross's homes falls significantly in the coming weeks, the losses generated by the business may increase to an extent that any pretence that it is a going concern will become impossible.
Which is why a meeting on Wednesday between Southern Cross, its 80 landlords, the Department of Health and lenders is so vitally important.
Southern Cross's hope is that they will all sign a statement pledging continuity of care for the company's 31,000 residents in its 751 homes - irrespective of whether the company is rescued and reconstructed or whether it falls into administration.
If they make that pledge, it is probably reasonable for families and local authorities to trade with Southern Cross on a business-as-usual basis. In the absence of such a statement, well goodness only knows what will happen.
Now there is one company that is probably more important to the stability of Southern Cross and its residents than any other. It is NHP, Southern Cross's most important landlord by far as owner of 249 of Southern Cross's homes.
If NHP were to agree to cut rents payable by Southern Cross then Southern Cross would probably have a viable future.
The problem is that NHP itself borrowed far too much, and is currently controlled by its creditors, a vast and disparate group of investors in bonds.
They rely on Southern Cross's homes for more than 90% of their income from care homes - so Southern Cross's proposal to cut rental payments by a third on average impairs their ability to get the money back they're owed on hundreds of millions of pounds of loans.
But although these creditors may view rental cuts with the relish most of us show for a plate of sick, they may have no alternative but to accept an income cut - given that UK public expenditure is under long-term downward pressure.
It is however proving incredibly difficult for Southern Cross to secure agreement from NHP on anything, even a general statement of intent that it will do all it can to ensure an orderly solution that doesn't harm residents.
The reason is that NHP has anything but a conventional corporate structure. Its creditors are co-ordinated by the outsourcing firm Capita and it appears to be run by experts in corporate reconstruction.
So it is not at all clear who speaks for NHP.
That said, and to repeat, if NHP's and Southern Cross's interests can be aligned, Southern Cross could perhaps have a viable future.
Which is why Southern Cross is offering to share future profits (if any) with landlords such as NHP that take a rent cut - and why it is proposing to transfer the operation of it's homes to any landlords with the expertise and appetite to take on that responsibility.
NHP has no expertise in actually managing care homes. Even so, the interesting question is whether it would be rational to merge NHP and Southern Cross, to create a business with more flexibility to cope with unforeseen changes in the economic climate.
That brings me to the second momentous conclusion of Mr Fisher's admission that a 6.5% drop in residency can wipe out profits - which is that (many would argue) it is far too risky a basis to run a company charged with looking after the welfare of 31,000 vulnerable elderly people.
Even if the company denies - as it does - that it ever deliberately cuts corners in the provision of care, the pressures on it to do so are conspicuous, and disturbing.
So whatever emerges from Southern Cross's crisis must surely be a business whose basic structure is far more robust, where there is no doubt about it's ability to cope in bad times as well as good.
And if there is an oddity about this potential debacle, it is that the Department of Health and local authorities did not look more closely at the shaky structure of the private care-home industry before facilitating its explosive and dangerous growth by channelling hundreds of millions of pounds in its direction.