House price changes 'predicted' by web search data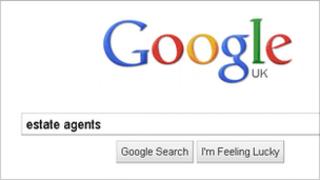 Web search data can provide an early signal of house price changes in the UK, a study has suggested.
The research in the Bank of England's latest quarterly bulletin concluded that the search data outperformed other traditional economic indicators.
Using Google's Insights for Search tool, researchers found that searches for "estate agents" tended to peak a month ahead of rises in house prices.
The Bank also said the data could help predict changes in unemployment.
Searches for "unemployment" and "JSA" (jobseeker's allowance) rose markedly in line with the unemployment rate during the 2008-09 recession.
Surprisingly, searches for the term "jobs" did not seem to vary much with changes in employment.
Although the results provided a good leading indicator of the jobs market, they were not significantly better than other existing indicators, such as the Jobcentre claimant count or consumer confidence surveys.
'Noise'
"Internet search data have a number of appealing properties as economic indicators," said the study.
"They are extremely timely and cover a potentially vast sample of respondents," it explained, noting that 60% of UK adults use the internet on a daily basis.
However, the researchers warned that the data also contained pitfalls.
Internet users tend to come from specific age and income groups, which may skew the data.
Many users made searches based purely on curiosity - which can add a lot of unhelpful random examples to the search data - while some important economic activities, such as business investment decisions, did not typically involve internet searches.
The Bank also noted problems with the Google data itself, particularly the fact that it only provided percentage changes in the relative popularity of a given search term, but did not give the actual number of searches.
This made it particularly hard to know which search terms to use for the study.
The fact that the data only went back a few years also made it difficult to draw definite conclusions about its usefulness.