Saab announces second Chinese investment partner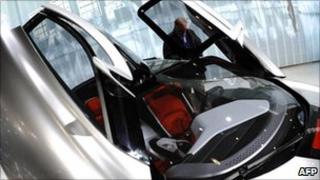 Saab owner Spyker cars says it has reached agreement with two Chinese firms to invest a total of 245m euros (£214m, $350m) in the firm.
The car maker has been forced to stop production in Sweden because of financial difficulties.
Under the non-binding deal, Zhejian Youngman Lotus Automobile would invest 136m euros for a 29.9% stake in Spyker.
Pang Da Automobile would increase its investment to 109m euros, retaining its previously agreed 24% stake.
The three firms have agreed a manufacturing and distribution agreement to allow Saab to expand its presence in China.
The firm has said it plans to start manufacturing in China within two years.
The deal is subject to approval from Chinese and European regulators and the European Investment Bank.
A previous deal with Chinese firm Hawtai failed and agreement from Chinese authorities is not guaranteed.
A deal in 2010 for US firm General Motors to sell the Hummer brand to Sichuan Tengzhong Heavy Industrial Machinery was cancelled after it failed to secure Chinese regulatory approval.
Chinese plans
Saab production at its main Trollhaettan plant in southwestern Sweden will remain at a halt.
The firm re-started production for just two weeks after a seven-week closure. However, the firm is optimistic about the latest developments.
"[It] is a step that significantly strengthens Saab's financial position and would secure the mid- and long-term financing for Saab automobile," said Saab and Spyker chief executive Victor Muller.
Saab's future now appears to rest on plans to expand in the Chinese market.
In the Chinese joint manufacturing project, Youngman would take 45% of the shares, Saab 45% and Pang Da 10%.
For distribution, Youngman would hold 33%, Pang Da 34% and Saab Automobile 33%.
"For the manufacturing joint venture, we really need a partner that is good at manufacturing. Youngman is in that respect an excellent partner," said Saab spokesperson Gunilla Gustavs.
If the agreement goes through, both Swedish car makers would have Chinese ownership.
Volvo was bought by Zhejiang Geely Holding Group in August 2010. The company reported an 82% increase in sales in China during May.