Southern Cross says care will be sustained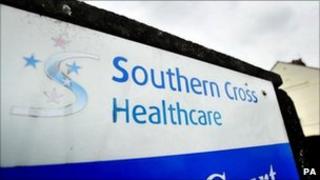 The chairman of Southern Cross care homes has reassured residents they will continue to receive care and defended the business model that many argue has pushed the company towards collapse.
Christopher Fisher told the BBC care "will be sustained" across its homes, by Southern Cross or another operator.
He added that the company would be in a worse position if it had borrowed money to buy homes, rather than renting them.
Southern Cross is having a meeting with its landlords on Wednesday.
The Department of Health will also be present at this week's meeting, while the GMB union, which represents many of the company's 42,000 staff, has called for a role in the discussions.
The company cannot afford to pay its rent and is negotiating with its landlords to find a solution.
Home closures
"Utmost priority is being given to continuity of care in the homes and people should not fear any widespread programme of closures," Mr Fisher said.
"Care will be sustained. In respect of some of our homes, some of our landlords, who are themselves operators, may wish to take back the effective operation of some of those homes."
However, he said there were a "number of homes whose medium-term future does have some concerns".
A "relatively small" number could possibly close over the next five years, he said, but any decision to close lay with the landlords.
'Low margins'
Mr Fisher said the main reason why the company was in trouble was because "occupancy levels and the charges we can levy on local authorities have both come under pressure".
Some authorities are cutting back on the fees they are willing to pay care homes since the government announced its spending cuts.
"We operate on relatively low margins. A typical care home has 50 beds - with 46 occupied we are in a good place, but with 43 occupied we are in a difficult place," Mr Fisher said.
Most commentators say the rents Southern Cross pays for its homes are the reason the company is struggling. This is the direct result of the company's decision to sell its homes and then lease them back a number of years ago.
However, Mr Fisher argued that continuing to borrow from banks would have caused greater problems.
"We could have borrowed money, but lease structures create greater stability than bank borrowing, that might typically have a five-year term," he said.
GMB national officer Justin Bowden said it was an "unpalatable fact" that the rents for Southern Cross properties were £100m a year above market rates.
"The landlords will have to take the hit to enable Southern Cross to provide a decent standard of care for the 31,000 elderly and vulnerable residents," he added.
Care standards
Some observers have also suggested that a lack of investment has affected the quality of care on offer at Southern Cross homes, which has in turn reduced occupancy levels.
At the end of September last year, the number of homes run by the company in England rated as good by the Care Quality Commission, expressed as a percentage of the total number run by Southern Cross, was in line with the national average - 67.7% against 68.6%.
However, it underperformed the national average in the percentage of homes ranked poor (2.8% against a national average of 0.5%), adequate (14.6% against 8.6%) and excellent (14.6% against 20.8%).
Mr Fisher said the company had given "complete priority to improving standards of care" in the past two years.
"I'm very sorry that the difficulties we are experiencing at corporate level are creating a degree of uncertainty and concern for our residents and their relatives, and for our staff and their relatives," he said.
Southern Cross is by far the largest care home operator in the UK and currently runs 752 homes with 31,000 residents and has been struggling with high rents of about £200m a year.
It has already deferred 30% of its rent to its 80 landlords for four months.