Ash cloud causes more disruption in South America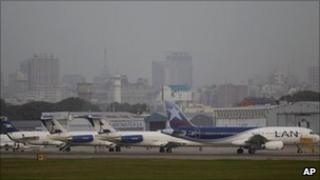 Ash from a volcanic eruption in Chile continues to disrupt air travel in parts of South America.
Winds blew the ash north-east to Argentina, Brazil and Uruguay, prompting the closure of airports.
The suspension of flights forced United Nations Secretary General Ban Ki-moon to take a bus to attend a meeting with Argentine leaders in Buenos Aires.
Earlier disruption to air travel in Australia, New Zealand and Tasmania eased as the wind direction changed.
Mr Ban's flight to Buenos Aires for a meeting with Argentine President Cristina Fernandez de Kirchner was diverted to the northern city of Cordoba.
From there, he and his team had to take an overnight bus to the capital.
President Fernandez said the 700-km (435-mile) journey meant that Mr Ban had to celebrate his 67th birthday at a petrol station, where she said he sampled an Argentine speciality, caramel-filled cookies, as a breakfast treat.
More than 70 flights were cancelled at Carrasco international airport in the Uruguayan capital, Montevideo.
All flights from Brazil to Argentina and Uruguay were also suspended, and there was disruption to air travel in Chile, Colombia and Paraguay.
Shifting ash
Meanwhile, Virgin, Qantas, Jetstar and Tiger Airways resumed flights between Australia, New Zealand and Tasmania.
Strong winds had carried the ash from Chile to southern New Zealand and Australia.
The cloud moved away from Melbourne on Monday afternoon allowing Qantas and its budget airline Jetstar to resume some flights.
Virgin Australia is operating a reduced service out of Melbourne, Tasmania and New Zealand, flying below the cloud.
Melbourne-based Tiger Airways also resumed flights on Monday evening, according to a company spokesperson.
In New Zealand, the Civil Aviation Authority said it was now safe for airlines to fly up to 27,000ft - up from 20,000ft on Sunday.
New Zealand's national carrier, Air New Zealand, has so far continued operating flights, flying below the cloud or on diversion.
The particles have the potential to seriously damage jet engines.
Analysts say uncertainty regarding the effect of ash on planes complicates the situation.
"The problem is that there is a lot of speculation about the actual impact of the ash," said Siva Govindasamy of Flight Global.
"That is a big worry for the airlines and as a result they are cancelling flights as a precautionary measure," he added.
Mr Govindasam said that until there was clarity about this, airlines would keep cancelling flights to keep both their passengers and aircraft safe.