Google takes on Asia's internet might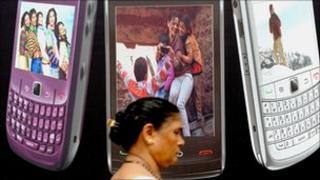 Daniel Alegre, Google's President for Japan and Asia-Pacific, insists that his company is "locally relevant", as it tries to appeal to the different tastes and internet capabilities of the hugely diverse Asian region.
"We don't see ourselves as a Silicon Valley company, we see ourselves as a Japanese company in Japan, a Singaporean company in Singapore," he says.
It signals a shift in the centre of gravity of cyberspace, as Asia becomes the biggest and fastest growing region for the internet.
Led by China, more and more people in the region are coming online each day.
Even in countries like Indonesia, Vietnam and the Philippines where the infrastructure to access the internet from home is lacking, the mobile phone explosion is facilitating a connection to the online world.
Globally, by 2014 the mobile phone will become the principal means of accessing the internet, according to Morgan Stanley.
And Google is betting big on mobile.
Its Android operating system, which is used by LG and Samsung's latest smartphone devices, is gaining popularity fast in these regions, as it hooks people into the Google universe.
"If I'm a Gmail [Google's e-mail service] user, I'm now likely to look at an Android device." says Shivanu Shukla, associate director of information and communication technology at Frost and Sullivan.
"The intent is to keep stickiness. If I use 10 services from Google, it is unlikely I will switch [to another provider]," he said.
Ethics versus Business
Google's focus in Asia, along with providing applications and advertising on its search engine, is targeting export-based companies that want access to the rest of the world.
This is something Asian companies are keen to do, especially in China.
"Google benefits from Chinese companies seeking to advertise overseas," says Duncan Clarke, chairman of BDA China, a Beijing-based investment consultancy.
It's one of the services that have allowed Google to maintain its presence in the world's largest internet market, unlike its search site, which has pitted it against the Chinese government over censorship issues.
In 2011, China will have twice as many internet users as the US, according to data collected by BDA China.
This is why Google is focusing on services that are less sensitive for the time being, such as products that are business-to-business, mobile and export-based.
"They are basically looking to find sustainable businesses that don't put them in ethical conflicts," says Mr Clark.
Google has on occasions taken a stand against the government that there should be open access to information.
But that ethical stance has been costly for Google and good for mainland China competitor Baidu.
"Baidu has gained from the trouble that Google encountered in China," says Mr Clark.
Although statistics vary, Baidu has about 76% share of the search market, according to figures from research firm Analysys International. Google comes in at a distant second.
Asian competitors
China is not the only place in Asia where Google faces tough competition.
Google enjoys supremacy in some countries such as Vietnam, New Zealand and India, where there was no established search player. But in more sophisticated internet markets, such as Japan and South Korea, Google does not dominate.
In Japan, Yahoo Japan, largely owned by web and telecom giant Softbank, fields the majority of web queries, according to comScore.
"Yahoo was early to market and has the backing of Softbank, which is a large broadband and mobile provider, so it has an advantage," says Mr Clarke.
In South Korea, Google fares even worse.
In March 2011, it had just 2% of the standard internet search market, according to Seoul-based research house, Metrix Corp. The market leader there is Naver, owned by internet content provider NHN.
In Korea, the telecoms sector is vertically integrated - that is, operators are also content and device providers.
And that works against Google in South Korea and Japan, where consumers are focused on domestic content.
"There are barriers to entry, both structurally and language-wise. It's difficult for foreign companies to penetrate without a local partner," says Mr Clark.
But Google's Mr Alegre doesn't sound worried.
"Here in Asia... we have very strong competitors. And we thrive on that competition, because it forces us to be better and it forces them to be better and in the end, the internet benefits," he says.
The confidence is understandable. Given its global dominance and the new users that the Android operating system is drawing in, Google is still well positioned to challenge the Asian incumbents.