Birthday Honours: Mervyn King and Brian Souter knighted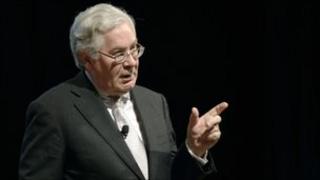 Bank of England governor Mervyn King, a key figure steering the UK through its economic woes, has been knighted in the Queen's birthday honours list.
Other new business knights are Stagecoach founder Brian Souter, BG Group chief Frank Chapman and Standard Chartered Bank chairman John Peace.
Sainsbury's chief executive Justin King and the chairman of the London Stock Exchange, Chris Gibson-Smith, get CBEs.
The president of the CBI employers' group, Helen Alexander, is made a Dame.
Sir Mervyn, 63, has been at the Bank's helm throughout the financial crisis and as chairman of the Monetary Policy Committee overseas the setting of Britain's interest rates.
A graduate of Cambridge and Harvard universities, he became Professor of Economics at the London School of Economics in 1984. Sir Mervyn joined the Bank as a non-executive director in 1990, and was its deputy governor from 1998 to 2003.
Former bus conductor Sir Brian Souter, 56, founded Stagecoach in the early 1980s with his sister Anne Gloag.
They started out with two second-hand buses - and now employ 30,000 people in a company that has a £2bn annual turnover.
Sir Brian was not only knighted for his services to transport, but also for his charitable work.
His Souter Charitable Trust, formed with his wife Betty in 1992, has supported a variety of causes, including funding anti-malaria programmes and helping children's schooling in Africa.
Sir Brian said: "It was particularly gratifying for me to see the work of the Trust being acknowledged, which is a fitting tribute to my wife Betty and her team who never seek publicity but do amazing work."
Sir Frank Chapman, 57, was knighted for "services to the oil and gas industries".
He is one of the longest-serving chief executives in the FTSE 100, having taken the top job in 2000.
Sir Frank has been feted in the City for turning BG Group into one of Britain's corporate success stories and has seen the company's share price triple during his tenure.
Standard Chartered's Sir John Peace was knighted for services to business and to the voluntary sector.
A fellow of the Royal Society of Arts and chairman of the Work Foundation, he became the bank's chairman in 2009, and holds the same post at retailer Burberry and data services company Experian.