Samsonite raises $1.25bn in Hong Kong IPO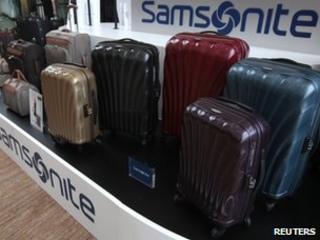 Samsonite has raised US$1.25bn (£767m) in an initial public offering in Hong Kong.
The 100-year-old luggage maker sold shares at HK$14.50 each, the lower-end of its proposed price range.
The shares are due to begin trading on 16 June.
Samsonite, which is owned by private equity group CVC and the Royal Bank Of Scotland, is the latest foreign company to seek a Hong Kong listing. Fashion house Prada is looking to raise $2.6bn.
Analysts said the companies would struggle to obtain top prices as poor market sentiment had dampened investor appetite.
Hong Kong's Hang Seng index has fallen in recent weeks.
Huaneng Renewables, the wind-power unit of China's biggest electricity producer, dropped as much as 11% on Wednesday - its first day of trading in Hong Kong.
"The Samsonite IPO is a very big size and the valuation is too high," said Peter Lai, a director at DBS Vickers in Hong Kong.
Samsonite had proposed to sell 671.2 million shares in a HK$13.50 to HK$17.50 range.
It will use the proceeds of the sale to pay off its debts.
CVC bought Samsonite in 2007 for $1.7bn at the height of the credit boom.
But the company struggled when travel was hit by the financial crisis and Royal Bank of Scotland ended up taking a 30% stake as part of a debt restructuring.
The company is betting on growth in Asia, where leisure travel is becoming increasingly affordable.