IMF: Lagarde wins support, as Fischer joins race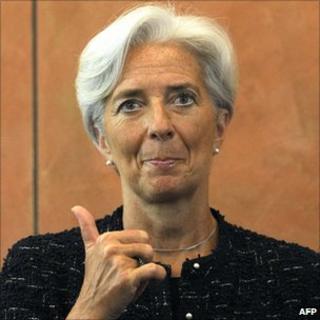 Christine Lagarde has won support from Egypt, Indonesia, and the United Arab Emirates in the race to become head of the International Monetary Fund.
Ministers in the respective governments said on Sunday that she would be the best choice.
This development followed news that Bank of Israel Governor Stanley Fischer had joined the IMF presidential race.
Mexico's central bank governor Agustin Carstens is the other candidate campaigning for the job.
Ms Lagarde has been on a whistle-stop tour of Asia and the Middle East amid suggestions that emerging-market countries would prefer a non-European to hold the IMF post.
Egypt's Foreign Minister Nabil al-Arabi told reporters, after talks with Ms Lagarde in Cairo: "The Egyptian government supports the candidacy of French Finance Minister Christine Lagarde for the post of managing director of the IMF," Arabi told
Egypt is on the 24-member executive board which is due to reach a decision on naming a new IMF chief at the end of this month.
Indonesian Finance Minister Agus Martowardojo also backed his French counterpart.
"Personally I support France," he said on the sidelines of a World Economic Forum meeting. "She's a professional person, very skilful in interacting between organisations, has high integrity and expertise."
Meanwhile, the UAE's minster for financial affairs, Obeid Humaid al-Tayer, told the state news agency: "The UAE supports the candidacy of the French finance minister, Christine Lagarde."
He hailed her role at G20 meetings under the rotating presidency of France that "tackled important issues, including those related to economic development".
'Unique opportunity'
Mr Carstens has been campaigning on a platform that developing nations should have a louder voice at the IMF. He said on Friday that India shared his belief.
But Ms Lagarde found herself with another rival at the weekend when Mr Fischer, 67, launched a surprise bid for the job.
"A unique, unplanned and possibly once-in-a-lifetime opportunity has arisen to run for the head of the International Monetary Fund, which after consideration, I decided I wanted to pursue," he said.
BBC correspondents say Mr Fischer may present a serious challenge to Ms Lagarde despite being two years older than the current age limit for IMF leaders to take up the post.
In the event of a deadlock between the front-runners, Mr Fischer might be seen as a compromise candidate, correspondents say.
Ms Lagarde, in Saudi Arabia for a meeting with ministers, declined to comment specifically on Mr Fischer's bid, saying only: "He has past experience as the number two at the IMF... Everybody is free to file a candidacy."
'Lack of unity'
News of his entry into the race came hours after Kazakhstan's central bank chief Grigory Marchenko withdrew from the running.
Mr Marchenko said it was "obvious" that French Finance Minister Christine Lagarde would get the job.
Mr Marchenko - whose candidacy was put forward by Russia and several other former Soviet republics - told CNN television on Friday that he dropped out for two reasons.
"One, it's more or less obvious that Christine Lagarde is going to be elected.
"Second, the developing countries are not able to unite around a single candidate. So, I think it's better to withdraw and not to put some of the countries into embarrassing positions," he said.
The IMF post became vacant when Dominique Strauss-Kahn quit last month.
He is currently in New York facing sexual assault charges relating to an alleged attack on a hotel maid.
The final selection for his replacement is expected to be announced by 30 June.
Former South African Finance Minister Trevor Manuel also ruled himself out on Friday.
Although he described Ms Lagarde as "very competent", he criticised Europe's assumption that it had an automatic right to the IMF's top job.
"A lot more should have been done to persuade Europeans that this birthright is not a birthright that should find a resonance in an institution as important as the IMF," he said.
'Positive feeling'
Ms Lagarde was in Brazil, India and China last week to try to garner support amongst key developing nations.
She left Beijing for Lisbon on Thursday to take part in the African Development Bank's annual meeting.
Before the departure she said she was "very satisfied" about her meeting with Chinese officials.
"I have a very positive feeling following these talks, but it's up to them to convey their decision," Ms Lagarde told AFP news agency.
Mr Carstens was also continuing his tour - visiting India before going to the US next week.
Since its creation, the top job at the IMF has gone to a European, while his or her counterpart at the World Bank has been American.
China, India, Brazil and Russia have called for this tradition to come to an end, as their economies are now becoming more important in the global economy.
Correspondents say that while European countries are keen to appoint a European, there is some support for picking a leader from the developing world.