Is Wolves the UK's top football club?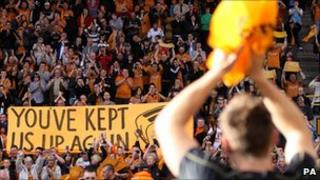 Which is the UK's most successful Premier League football club? On the basis of outputs versus inputs, you could argue it's Wolverhampton Wanderers.
According to Deloitte's latest annual review of football finance, Wolves' wage bill in the year to May 2010 (which is the latest period for which the accounts are available) was £29.8m, which was the second lowest in the Premier League.
And during the simultaneous season of 2009-10, Wolves's position in the league was 15th. And it had a comfortable eight point margin over the bottom three relegated clubs.
That said, the stats also perhaps indicate that disproportionately low spending on players' wages is probably not a sustainable strategy - since in the season just ended, as stress-wrecked Wolves fans will know, the club only avoided relegation by a whisker, on that nail-biting final match day.
Interestingly, Burnley - which spent even less on players' salaries than Wolves, just £22m - was relegated in 2009-10.
And the club which spent a bit more, Birmingham, with a £37m wages bill, went down in the season just gone by.
So, in case anyone doubted it, there is a clear correlation between survival in the top rank and a willingness and ability to pay those humungous players' salaries.
That said, it's by no means a perfect correlation.
West Ham's wage bill was a relatively high £54m in 2009-10, when it almost went down - and of course the Hammers were relegated this season.
Another club that performed brilliantly on the basis of outputs generated from inputs - and it pains me to say this as a supporter of the neighbouring club - was Tottenham Hotspur.
Spurs' wage bill in the year to June 2010 was £67m, 40% less than Arsenal, 49% less than Man Utd and a staggering 61% less than Chelsea - and that was the year it came fouth in the Premier League, precipitating the highs and lows of 2010-11 in the Champions League.
Bottom of the league
Which is the worst performing club on that model? Well it was Liverpool, which had the fourth largest wage bill at £121m, £10m more than Arsenal and £41m more than the next highest spender, Aston Villa.
So its position in that season of seventh, below Villa, represented a serious flop - and would tend to rationalise why the fans were so desperate to see the then owners turfed out.
Although Liverpool FC under Kenny Dalgleish's management enjoyed a revival in the latter part of last season, on the basis of the input-output stats, the club has to be seen as an underperformer unless and until it secures a top four league position.
So how to assess the success of Chelsea, Manchester Utd, Manchester City and Arsenal? Well Chelsea's wage bill was a full 31% greater than the second highest payer, Man City.
For that it won the double in 2009-10 and zip last year. Or to put it another way, the ability to pay huge wages to star players is probably a necessary but not sufficient condition for winning the Premier League.
As for Man City, again it shows that money delivers results on the field. But relative to its neighbour, Manchester Utd, Man City's productivity - or premier league points generated per unit of spending on players' wages - is relatively low.
Man Utd's wage bill was a fraction less than City's - from which it generated a vastly superior performance, of second in 2009-10 and champions last year.
Here's another way of seeing Man City's low productivity. Each of Wolves's Premier League points in 2009-10 cost it £789,000 in wages, whereas each of Man City's points cost it £2m in wages. Wolves was more than twice as efficient as Man City.
For what its worth, Chelsea was even less productive - each of its 86 points in 2009-10 cost it over £2m in salaries.
What about my club, Arsenal? Well the evidence suggests that the manager Arsene Wenger continues to add value: Arsenal's wage bill was the fifth highest in the country at £111m, more than £20m a year less than Man City and Man Utd; in the concurrent season Arsenal came third, and last year we were fourth.
Silverware
However this is where I admit that my analysis is only of limited value, in that Premier League points per unit of expenditure is not a measure of success that most fans would recognise.
Fans would say actually winning a trophy should count for something. And on that basis, given that Arsenal has not won the Premier League since 2003-4, you could argue that Wenger's productivity is fatuous.
In fact, if you combine spending per unit of output with success in winning trophies, there is no doubt that Alex Ferguson is incomparably the most successful manager in the UK.
Man Utd's wage bill per Premier League point is £1.6m, just a fraction more than Arsenal's £1.5m.
Here's the thing: for the extra £100,000 per point, Man Utd were runners up in 2009/10 and champions in 2010/11.
To be clear, Arsenal and Wenger cannot argue that they could not afford to spend the extra £20m shelled out by Man Utd on wages, at least not on Deloitte's analysis.
Because Deloitte shows that Arsenal were the only club in 2008/9 and 2009/10 to make substantial pre-tax profits, of £46m and £56m respectively. No other club came within £40m of that profit.
It is therefore possible to argue that Arsenal's cherished strategy of running its business on a financially sustainable basis is less in the interest of its supporters than its board may believe.
If Arsenal's wage bill had been £20m higher (that is the same as Man Utd's), its profits £20m lower, and the club had actually won something, I doubt many Gooner fans would have complained.