Saab's 'special mission' aircraft searches for customers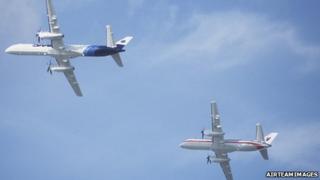 Framed by huge hangar doors, the planes in Saab's service and maintenance hangar sit together like actors on a stage.
Every morning, various makes and models of aircraft are provided fuelled and fully serviced for Saab's military and civilian customers here at Sweden's Skavsta airport.
"It's our responsibility to keep the planes operational,'' says Bo Soderling, marketing director for Saab Services and Support.
"If we're lucky," he says, "at the end of the day we get them back in working order".
Any minor damage or small glitches are sorted by the team in Skavsta, but if an aircraft comes back with a bigger problem it can be sent to the Saab factory - an hour or so away - at Linkoping.
Mr Soderling describes the operation as a "total support service" and more and more customers are buying into the capability of the services team.
The operation here is an example of how Saab Aerospace and Defence have modified their business model.
In the past, people working here used to refer to "the customer" - the Swedish Air Force. But they are now trying to expand their portfolio and try to sell defence and service solutions to customers all around the world.
Smart recycling
One part of their service is what they call their ''special missions" department.
It is a sort of "pimp-my-plane" department that takes discontinued Saab passenger planes and re-modifies them.
A few years ago, turbo-prop passenger planes such as the Saab 340 and 2000 models were all the rage.
But a series of crashes led to a decline in sales, and Saab was left with a fleet of planes that still had about 30 years of life still in them.
Rather than turn the planes into scrap metal and lose a substantial amount of money, Saab has remodelled them into aircraft aimed at combating a range of worldwide threats.
A team based in Linkoping, just south of Stockholm, strips each plane of all its familiar passenger furnishings; the seats, overhead lockers and toilets.
They are then given a full refurbishment and fitted with bunk beds and proper rest and washing areas for the special mission crew.
Linkoping is quite a small town and many of the engineers who built the planes the first time round are still there, working on the re-modifications.
"It's a smart sort of recycling," says department manager Mr Hultin. "We re-use the planes and the expertise."
Combating new threats
One of the planes they recycle in the Saab 340. It first flew in 1989 and went on to become the best selling 30-seater plane ever made - in part because it is very fuel efficient and has half the running costs of a regional jet.
It has been re-designed as a search and rescue plane, complete with night vision and life-saving equipment.
The Japanese coast guard bought a fleet of four, and the radar equipment strapped to its belly means not only can they find ships in distress but they can also monitor the illegal fishing which is rife in the seas around their islands.
"But over the past three years the threat has changed," says Mr Hultin.
Coastguards and navies all over the world now have to deal with ever more sophisticated drug smugglers who now travel beneath the waves to avoid detection.
US homeland security estimates that over 30% of the cocaine that comes via the sea from Latin America into the Unites States is transported by submarines.
"The Mayor of New York doesn't want a submarine full of cocaine sneaking up the Hudson river, and he'll need a plane to monitor these smugglers" says Mr Hultin.
His choice of example may be a hint - the US Navy has yet to buy any of these planes and Saab is pushing heavily for them to do so.
Looking for sales
The Saab 2000 is a much larger plane than the 340 and is Saab's flagship aircraft, used to fly the chief executive, Hakan Buschke, around the world.
As part of the recycling programme it too has been transformed into various special mission aircraft, one of which is the Saab 2000 maritime patrol aircraft (MPA).
Like the Saab 340, the plane is used for a variety of missions. But it can be particularly configured to track and fight the pirates who terrorise parts of the coast of Africa.
Armed with anti-ship missiles and technology that allows them to monitor enemy speech and telecommunications, the aircraft are able to assist the navy in tracking down pirates, or to act as protection for container ships.
Saab is currently bidding for a contract to sell the Saab 2000 MPA to the Indian Navy and has suggested the plane can be used for pipeline protection and as well as for anti-terrorism surveillance.
As yet, no country in the world operates the MPA variant of the Saab 2000 - which could make India a potential launch country for this plane.
The relative low cost of these aircraft could be what clinches the deal for Saab.
'Crowded market'
Rival systems are often more expensive, and Saab say they can offer servicing and support once the deal has been made.
But a source in the aviation industry says he believes Saab will struggle to sell the 2000 MPA planes because they are trying to operate in a '"niche and crowded market" dominated by the Canadian made Bombardier Dash 8.
However, there does seem to be an ever increasing need for special mission systems like the ones offered by Saab.
This year's Paris Air Show will take place at Le Bourget exhibition centre on the outskirts of Paris from 20 to 26 June 2011.