Samsung chief concerned about corruption in the company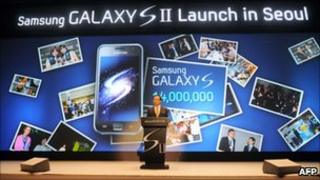 The chairman of Samsung Electronics, Kun-Hee Lee, has voiced his concerns about the possible spread of corruption within the group's companies.
Mr Lee said that corruption allegations had tarnished the company's image.
His comments came after the chief executive of subsidiary Samsung Techwin, Oh Chang-Suk, resigned following unspecified "irregularities" at the company.
Samsung Electronics is the world's largest technology company.
"There were a few incidents of irregularities [at Samsung Techwin], which goes against Samsung's long-established clean corporate culture and strict business ethics," Mr Lee said.
"I have decided to handle this as a serious matter," he added.
Mr Lee said that he had asked the management at other Samsung companies to adopt tighter monitoring and take steps to prevent such lapses from happening again.
In an e-mailed statement, the company's executive vice president, In-yong Rhee, told the BBC that the chief executive of Samsung Techwin had not been personally involved in any irregularities.
However, he had resigned to take responsibility as the head of the company, Mr Rhee said.