Argos sales slide hits Home Retail Group shares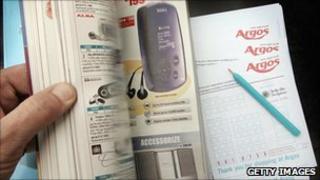 Argos has reported a big drop in sales for the past three months after experiencing worse-than-expected trading conditions, its owner has said.
Home Retail Group shares closed down 14% after it said like-for-like sales - which strip out new selling space - at Argos fell 9.6% in 13 weeks to 28 May.
It added there had been a "significant decline" in sales of consumer electronics goods at Argos.
However, trading at its Homebase DIY chain was helped by the warm weather.
"Trading conditions, particularly at Argos, have proved to be more difficult and volatile than anticipated," said Terry Duddy, Home Retail Group's chief executive, in the firm's trading update.
"Despite this the group has gained or held market share in its businesses."
Like-for-like sales at Homebase rose 1.6% over the three month period, which Home Retail Group described as a "good outcome" and was helped by strong sales of garden goods.
At Argos, the main factor behind the recent sales slump was the fall in the consumer electronics market, the company said.
"The difficulty of this market, together with the volatility of overall sales, has made the balance of the year more difficult to predict," Mr Duddy said.
"While we remain cautious for the balance of the financial year, we are focused on our operational performance while continuing to invest across the businesses," he added.
In April, Home Retail Group reported a 10% fall in profits for the year to 26 February.
Consumer pressure
Sports fashion retailer JD Sports also released a trading update on Thursday, in which it said underlying sales had dipped slightly.
Like-for-like sales over the first 18 weeks of its financial year were down 2.8%, having dropped 1.2% in the first eight weeks.
However, the retailer said that comparisons had been made more complicated because last year's trading was helped by the run-up to the 2010 World Cup.
Nevertheless, it said its outlook remained cautious because of the "very clear downward pressures on levels of gross consumer expenditure in our market and the increased VAT take from such expenditure".
Car parts retailer Halfords also said it expected the consumer environment to "remain challenging", as it reported a 7.7% rise in full year profits to £118.1m.
The firm said like-for-like sales in the nine weeks to 3 June were up 0.8%, helped by a strong rise in sales of leisure goods such as bicycles.
On Tuesday, the British Retail Consortium (BRC) said retail sales in May had fallen by 2.1% compared with a year earlier.
The previous two months has seen sales increase, but the BRC said the May figures were a more realistic reflection of the "tough conditions" on the High Street as March and April had been "distorted" by a late Easter, an extra bank holiday and good weather.