Network Rail profits increase to £438m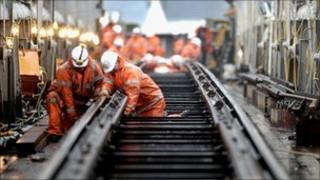 Profits at the company that maintains Britain's rail network have risen - but its performance results fell.
Network Rail saw pre-tax profits increase 10.8% from £395m to £438m in the year to 31 March.
But the number of trains running on time fell to 90.9% from 91.5%, due mainly to the severe winter weather.
The company cut costs by £400m and said it was on target to meet "challenging efficiency savings" demanded by the rail regulator.
Last month, a report into the rail industry by Sir Roy McNulty said that the cost of running the network should be 30% lower, bringing it in line with other European railways.
Network Rail's finance director, Patrick Butcher, told the BBC that the industry accepted that costs must be driven down further.
"The rail industry simply has to become more affordable for the user of the railway network and for taxpayers," he said.
Mr Butcher said that Network Rail had begun to devolve decision-making throughout the company, one of the recommendations Sir Roy said would improve efficiency.
When asked about whether the industry's high costs were due to the way it is split between train companies and Network Rail, which maintains the infrastructure, he said: "I think that the industry can improve by working closer together."
The company's revenues increased from £5.66bn to £5.71bn while operating profits rose from £1.9bn to £2bn.
Capital expenditure rose slightly to £4bn.
Staff numbers were cut to 35,606 from 37,153 with average salaries increasing by 1.5%.