Lagarde visits China to gather support for IMF top job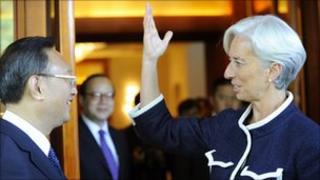 Christine Lagarde, the top candidate to lead the International Monetary Fund, has said she is "very satisfied" with her meeting with Chinese officials.
The French finance minister is in Beijing as part of a tour to garner support for her candidacy.
She entered the race after Dominique Strauss-Kahn resigned last month to fight rape charges against him.
Countries in Asia and Latin America have said candidates from outside Europe should be considered.
'Open' race
"I have a very positive feeling following these talks, but it's up to them to convey their decision," Ms Lagarde said in an interview with the AFP news agency.
She said it would be "very legitimate for Chinese representatives to be included at the highest level of the Fund's leadership".
Beijing expressed a wish for "better representation", she said.
Ms Lagarde met top officials, including Finance Minister Xie Xuren and Foreign Minister Yang Jiechi.
Mr Yang told reporters on Wednesday that the race to lead the IMF was "open".
"China of course gives serious thought to this very important issue," he said, without saying who China would support.
The Reuters news agency reported on Thursday that a Chinese central bank newspaper had expressed some indirect support for Ms Lagarde.
Citing a government researcher, it said Ms Lagarde would be good for the IMF top job because of her experience handling the European sovereign debt crisis.
Global campaigning
Ms Lagarde has already visited India and Brazil as part of a world tour to seek support for her candidacy.
The only other declared candidate for the IMF top post is Agustin Carstens, who is Mexico's central bank governor.
He is also on his own tour and will visit India on Friday.
Since its creation, the top job at the IMF has gone to a European while his or her counterpart at the World Bank has been American.
China, India, Brazil and Russia have called for this division to come to an end, as their economies are now becoming more important in the global economy.