Oil prices rise after Opec holds oil production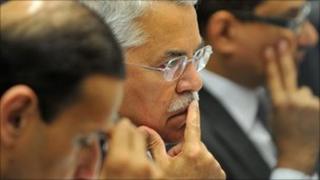 The price of oil jumped after the Opec oil cartel failed to agree on increasing production, in an unusual show of tension between members.
Analysts had expected the Vienna meeting to raise output, to alleviate fears of limited supply and send prices lower.
Meanwhile, the latest statistics from BP showed that oil consumption rose by its fastest rate since 2004 last year.
On Thursday US light, sweet crude rose 71 cents to $101.10 per barrel.
It later settled at $100.74 at the end of the Asian trading session.
In London, Brent crude rose almost $1 at the start of trading, reaching $118.53 before dropping back to $117.70.
Opec row
"We are unable to reach consensus to... raise our production," said Abdullah Al-Badri, Secretary General of the Organisation of the Petroleum Exporting Countries.
The organisation has 12 member nations.
The cartel's secretariat, based in Vienna, had predicted that rising consumption this year would drive demand above its supply.
Saudi Arabia and other Gulf states wanted to increase production to limit rising prices and so ensure continued demand for oil.
However, oil ministers meeting in Vienna failed to agree on a rise in output.
"This is one of the worst meetings we have ever had," said Saudi oil minister Ali al-Naimi.
Those who blocked the increase in production included Venezuela, Iran, Algeria and Libya.
Venezuela's oil minister Rafael Ramirez said any production increase "could cause a collapse of our price."
However, many analysts said it would have little impact on actual production.
"It seems to me that with crude prices as high as they are, most members are already producing as much as they possibly can," said Tom Bentz, director at BNP Paribas commodity futures.
Chinese demand
Oil consumption in 2010 rose by 3.1%, more than double the 10-year average increase, according to BP's annual statistical review.
The rise in consumption came despite rising prices - average oil prices in 2010 for Brent crude were the second highest on record.
Much of the increased demand for oil continued to come from China, according to BP.
Chinese oil demand rose by more than 10% or 860,000 barrels a day.
China also drove rising demand for energy around the world. Energy consumption rose by 5.6% - the fastest rate since 1973.
Gas saw the fastest growth of all the fossil fuels, driven by the exploitation of shale gas in the US.
"When all the accounting is done, we all consumed more energy in 2010 than ever before," said Christof Ruhl, BP group's chief economist.
It means CO2 emissions rose in almost every country covered, led again by China, where emissions rose by more than 10%.