IT challenge: controlling employees with many devices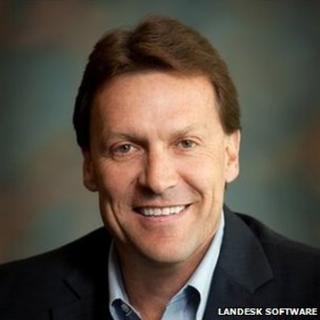 Each week we ask high-profile technology decision-makers three questions.
This week it is Steve Workman, vice president of product management for LANDesk Software - a global provider of management and security solutions for desktops, servers and mobile devices.
Before LANDesk, Mr Workman held numerous product marketing positions at organisations including Intel, Dayna Communications and Emerson Electric.
What's your biggest technology problem right now?
The biggest challenge we see in our industry is the need for IT departments to start managing users, and not just managing the devices in their environment.
Just a few years ago, IT managers only had to worry about managing a user's corporate-issued laptop or desktop machine; it was really a one-to-one model.
Now they need to worry about every device an employee owns, including consumer devices like smartphones, tablets or even their home computers.
Highly mobile users demand access to their information anytime, anywhere. They want the freedom to use multiple devices to do their work, to download their applications and have access to their corporate data.
For example, as an employee of a company, I want to be able to access my email and my corporate applications from my iPhone, my iPad, my home computer - not just from my laptop or desktop back in the office.
That user freedom, the ability to access my email at home, when I'm travelling, whether I'm on a plane, or on a train or in a car, poses a huge challenge for an IT department.
It has to manage and secure, not just those corporate devices that are back at the office, but all of the user's devices.
What's the next big tech thing in your industry?
The next big tech thing is about helping IT gain control of their end-user environment.
On one hand, users want all this freedom, but IT needs to gain control of it and effectively manage it. That's really going to be crucial over the next few years, given the explosion of these mobile devices.
We already have some customers who tell us they feel helpless when it comes to attempting to manage everything entering their corporate environment. Other customers seem unaware of how fast the world is changing around them.
We feel that our customers in IT departments need to be able to track the mobile devices are being brought into their environment. They also need to have the ability and control to delete all the information, in the event those devices are lost or stolen.
IT needs to let employees know that, if they're using these personal devices to access corporate information, the company has the ability to recognise this and take action to secure that device.
IT also needs to have the ability to manage a variety of platforms. Just a few years ago we were all talking about Windows devices, but today the environment includes Windows Mobile, Linux, Apple iOS, BlackBerry, Android, webOS, and there's more to come.
What's the biggest technology mistake you've ever made - either at work or in your own life?
That's a very interesting question!
It's not really one huge mistake that I've ever made, there's probably a collection of small ones.
I consider myself an early adopter of new technology, my personal digital graveyard is pretty vast.
Some of those early purchases are mistakes that would stand out. For example, when I remodelled my house a few years back, I spent a lot of time and money running expensive networking cable to every room - only to purchase a wireless router soon after we moved in!
Also, within my role at LANDesk, I've spent a lot of time talking to customers and helping them implement processes and tools to be proactive against security threats, and help them maintain a stable environment.
But recently my daughter was completing a homework assignment with another student from her class at our house, and they shared documents via a thumb drive.
It turns out there was a file that was corrupted with a virus on it, it infected her laptop and then it proceeded to cripple my whole home network. As a result, I was stunned - my anti-virus software apparently wasn't up to date.
So I had to reset all the machines, and unfortunately lost some critical data.
The bottom line is - you never think that it'll happen to you. But lesson learned, I need to practise what I preach!