Formula 1 call-off would hit Bahrain pride and economy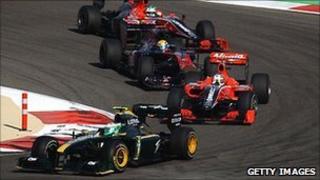 If, as Bernie Ecclestone accepts, the Bahrain Grand Prix will not go ahead in October, it will be a huge and humiliating blow to the tiny Arabian island.
The fact that the Formula 1 circuit is mentioned on most road signs in Manama is no surprise.
Hosting F1 encompasses the vision that Bahrain has adopted for itself - of a kingdom keen to embrace modernity while preserving its heritage.
It is difficult not to sense the pride most Bahrainis feel when they talk about how their country became the host of the first ever Formula 1 race to be held in the Middle East in 2004.
'Instant exposure'
It is a feeling of satisfaction for getting on the right track as Bahrain strives to book a place for itself on the world map.
"Give me anything else that could give Bahrain instant exposure of two hundred million to three hundred million viewers around the world."
This is how the chief executive of the Bahrain International Circuit, Salman bin Isa Al Khalifa, explained to me the importance of F1 when I visited his country last week.
"Imagine that it gives us the opportunity to stand in the same elite circle of around 20 countries, among them world powers such as China, England or Germany," he added.
And it is mostly the world exposure F1 provides to a small island of only 717 sq km, and a population of 800.000 that make this event so important to the Kingdom of Bahrain.
But it doesn't mean that the F1 project in Bahrain doesn't attract controversy within the country.
The circuit that was built in a record time of 16 months drew criticism for its high financial cost - in a kingdom that doesn't enjoy the same oil bonanza as its larger neighbours.
But even here, the defenders of F1 insist that the financial returns of the event are worth the investment, especially in the long run.
Symbol of recovery
According to Al Khalifa the direct financial returns of the F1 vary between $130m (£79m) to $200m a year.
This is without counting the indirect benefits to the economy overall.
All this is in normal times, but now F1 has found itself caught up with Bahrain's most challenging political and security crisis.
What was once seen as a symbol of the recovery of Bahrain is now being seen as an embarrassment by the rest of the world.
Shunned by the sport's top drivers and teams it will be difficult for the kingdom to show it is racing back to normality.