Can Lloyds sell its customers?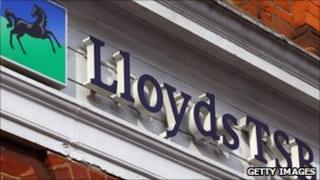 I've been sent a list of the addresses of the 600-odd branches Lloyds is being forced to sell by the European Commission, following Lloyds' merger with HBOS and the rescue of the enlarged organisation by taxpayers in 2008.
And when you see the relevant Cheltenham & Gloucester, Lloyds TSB England & Wales and Lloyds TSB Scotland outlets printed out on 15 pages, and notice that what's being auctioned are branches from Aberdeen to High Wycombe to Wythenshawe, it is clear that what is being put on the market by Lloyds is a very substantial business.
Another way of looking at this is that the business being sold by Lloyds, which goes by the codename of Verde, looks after between 3m and 5m customers, with £25bn of deposits and £65bn or mortgages.
So although the Independent Commission on Banking, set up by George Osborne, wants the government to force Lloyds to sell off an even bigger business, to promote sharper competition in the retail banking market, Verde is by no means a bank of trivial size.
The question of course is whether Verde is genuinely big enough to pose a significant competitive threat to the big five banks, Lloyds, Royal Bank of Scotland, HSBC, Barclays and Santander.
MPs will doubtless explore this question with Antonio Horta-Orsorio, the new chief executive of Lloyds, when they grill him this afternoon.
He will say Verde definitely has sufficient clout to give his own bank a run for its money, as and when it is sold to one of the likely bidders (which include National Australia Bank, newcomer NBNK and Virgin Money) - but the MPs will know he has a powerful vested interest in accusing the Commission on Banking of being excessively zealous in its desire to cut Lloyds down to size.
What price?
But the MPs might also pose a question that's highly relevant to the kind of competitive threat that Verde under new ownership could pose, which is how on earth can Lloyds guarantee that its customers will transfer across to the new owners when they take possession of the new branches?
There will be plenty of accountholders, in the Camarthen, Irvine or Skelmersdale branches, for example, who won't want to become customers of National Australia Bank, or NBNK or Virgin Money.
They may be quite happy at Lloyds or decide they want to switch to RBS's NatWest or HSBC.
Lloyds can't force its customers to become clients of the bank that buys its branches. But in the absence of being able to compel customers to do their business with the new owners, it is not at all clear how you would put a price on the business being sold.
As I understand it, precisely this problem has contributed to the delay in the forced sale by RBS of a load of branches and small-business banking operations to Santander.
To get round this, I am told that Lloyds will promise to send across new customers, to replace those who may take their savings - or their debts - elsewhere. But the mechanics of doing that feel messy.
Or to put it another way, this process of carving out a chunk of Lloyds to create a new force in British banking is going to be complicated and the results are hard to predict.