German exports fall from record levels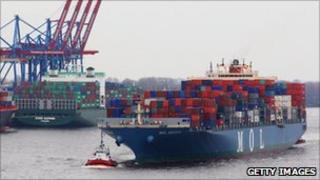 German exports fell sharply in April after surging the previous month.
Exports fell by 5.5% to 84.3bn euros ($123.8bn; £75.6bn) from March, more than analysts had expected, with imports also down 2.5% to 73.4bn euros, the national statistics office said.
This gave a trade surplus for the month of 10.9bn euros.
Germany is the world's second-largest exporter behind China and its strong economic growth is helping to drive the recovery in Europe.
"At first glance it's a sharp decline, in particular for exports," said Thorsten Polleit at Barclays Bank.
"But it is a reaction to the strong increase in March, so one should not overrate it."
"The momentum of the economy is easing however, something you see in the [manufacturing] orders. The tremendous growth of the past year should normalise in the coming months."
Exports and imports both hit record levels in March.
Strong German growth is in stark contrast to the so-called peripheral European economies, such as Greece and Portugal, that are struggling with high levels of debt.