Punch Taverns sales rise and demerger 'making progress'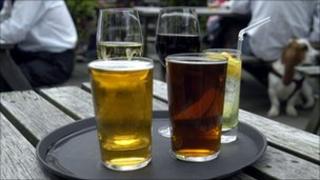 UK pubs group Punch Taverns has reported a sharp rise in sales at its managed pubs and says it is making good progress on its plans to demerge.
In March, Punch announced that it was splitting its managed and leased pub operations into two public companies.
In its latest update, it said like-for-like sales at the managed side, Spirit, grew 7.3% in the 12 weeks to 28 May.
It said the recent hot weather and its refurbishment programme had helped boost sales.
Food sales at Spirit rose 8.4% while drinks sales rose 7.3%.
Average net income per pub at its leased pubs business rose 1.3%.
Punch said it expected the demerger to have been completed by the end of the summer, and added it was on track to meet its full-year profit expectations.
Market forecasts for its annual pre-tax profits range from £119.5m to £124.1m.
Punch, whose brands include Chef & Brewer, Fayre & Square and Flaming Grill, has been struggling with falling profits and rising debt, which hit £3.3bn last year.