Prada seeks to raise $2.6bn in Hong Kong share offering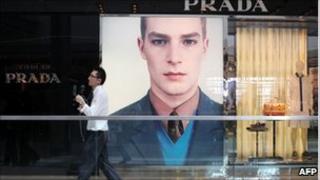 Fashion house Prada is seeking to raise up to $2.6bn (£1.6bn) via a flotation on the Hong Kong stock exchange.
The privately owned company wants to sell 423.3 million shares to investors in a range of 36.50 to 48 Hong Kong dollars, the BBC has learned.
Prada would be the first Italian company to list in Hong Kong, as it seeks to tap China's growing appetite for luxury goods.
The company was founded in 1913 and also owns Miu Miu and Church's Shoes.
According to documents filed to the Hong Kong stock exchange, Prada expects to open 70 more stores in Asia by 2014, of which 30 will be in China.
"We believe further growth is possible due to the continuing growth of the Chinese economy," the company said.
Prada, said it also hopes to expand in the Middle East, Russia and Brazil.
The company is run by the husband and wife team Patrizio Bertelli and Miuccia Prada, who is the founder's granddaughter.
Brands flock to Hong Kong
Prada is not the only big-name brand looking to list in Hong Kong.
French skincare group L'Occitane listed there last year, and Samsonite, the world's biggest luggage firm, is seeking to raise up to $1.5bn in an initial public offering (IPO) this month.
Firms hope that a Hong Kong listing will raise their profile among China's increasingly wealthy consumers, as well as being an effective way to raise funds for expansion.
Over the next decade, China is expected to become the world's largest market for luxury goods, worth 74bn euros ($107bn), according to a recent report by Asia-focused research firm CLSA.
Luxury handbags, clothing, watches and jewellery are the most favoured ways for Chinese to display their wealth, the report adds.
IPO boom
Hong Kong has been the world's biggest IPO market for the past two years, eclipsing London and New York.
However, not all offerings have been successful.
This week Australian mining company Resourcehouse dropped its Hong Kong IPO plans because of a poor response from investors.
The company had planned to raise as much as $3.6bn in order to develop its Queensland coal mine.
Prada has also had a rocky road to the market.
This is the fifth time the company - which is still 95% owned by the Prada family - has tried to pull off a stock market listing.
One previous attempt faltered during the downturn following the 11 September terrorist attacks in the US in 2001. Prada revived its plans in 2007, but they were put on hold by the market turmoil triggered by the credit crunch.
Prada's management team is holding a fashion show and investor presentation in Hong Kong as they begin marketing the IPO to investors worldwide.
The price of the shares will be set on 17 June, ahead of the first day's trading on 24 June.
The company stock code will be "1913" - the year the company was founded.