House prices 'wilted in spring' says Halifax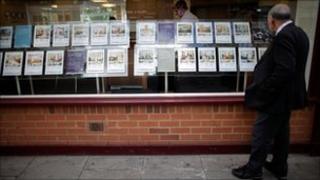 House prices have been falling in spring, according to the Halifax, but the lender is expecting a stabilisation in prices later in the year.
The value of the average home rose by 0.1% from April to May, to £160,519.
But prices were 4.2% lower than the same period a year ago - the biggest annual drop since October 2009.
The Halifax, now part of Lloyds Banking Group, said a moderate improvement in the economy and low interest rates would help the market.
'Drift'
The annual change is based on average prices during the three months to the end of May, compared with the same three-month period of the previous year.
When comparing to prices in the three months to the end of May with the previous three months, there was a 1.2% drop, the Halifax said in its latest house price index report.
"House prices continue to drift modestly downwards," said Halifax chief economist Martin Ellis.
"Low earnings growth, higher taxes and relatively high inflation are all putting pressure on household finances.
"Confidence is also weak as a result of uncertainty about the economic and employment outlook. These factors are probably constraining housing demand and applying some downward pressure on prices."
A separate survey by the British Retail Consortium (BRC) suggested that consumer spending in the shops dropped in May compared with a year earlier.
Comparison
The Halifax survey mirrors other house price data, which has shown a stagnation in the housing market for some months.
The Nationwide, recording a 1.2% annual drop in property values, said the housing market was reflecting the "lacklustre" state of the economy.
The Land Registry also recorded falling prices in England and Wales, although it noted some distinct regional variations.
In London, prices were up 5% in the year to April, according to the Land Registry, whereas prices in the north-east of England fell by 8% over the same period.
The interactive content on this page requires JavaScript