HMV agrees new refinancing deal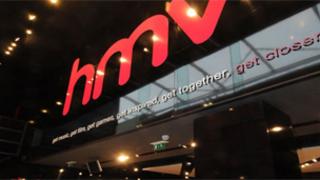 Troubled music and DVD retailer HMV has agreed a new refinancing package with its lenders, worth £220m.
But the company faces high interest rates and fees as part of the new deal.
The deal includes issuing the lenders with warrants worth 5% of the company, which will be converted into shares next year.
In May, HMV sold its Waterstone's book chain for £53m to a fund controlled by Russian billionaire Alexander Mamut, who already owns 6% of HMV.
HMV has estimated debts of £170m and has issued several profit warnings this year.
The company's share price rose 4p on Monday to 12.25p amid rumours that the deal was imminent.
It rose further on Tuesday morning after its announcement, but later fell in the afternoon as investors digested the stringent conditions of the package.
'Important milestone'
The group has faced increased competition from online retailers and supermarkets, and has seen sales of CDs and DVDs fall as a result, leading to the planned closure of 60 stores this year.
HMV's main lenders are taxpayer-backed Royal Bank of Scotland and Lloyds Banking Group.
But the new money will not come cheap - the interest rate payable is 4 percentage points above Libor, or the benchmark market rate.
The package is made up of separate £70m and £90m loans, and a £60m credit facility, which can be called upon if needed.
And the company faces an "exit fee" due on the £90m loan when it is repaid, which would rise to 14% by January 2013 if the loan has not been repaid by then.
Chief executive Simon Fox said the new bank facility "represents another important milestone in securing the financial stability of the group".
'Eye-watering'
Mr Fox told the BBC he was comfortable with the new loan deal but conceded he was paying "equity type rates for debt financing" on the £90m loan.
Robert Clark, senior partner at Retail Knowledge Bank, said the interest rates HMV potentially faced on this loan were "eye-watering".
"It hasn't really taken on the Amazons of this world and hasn't gone into downloading in the way that it should have done," he said, adding that the company needed to make its stores much more attractive to consumers.
HMV plans to convert 150 of its larger stores into centres for the purchase of electronic tablets and related kit, apps, and downloadable entertainment.
BBC business editor Robert Peston said HMV's survival would depend to a great extent on the success of this conversion, scheduled for completion by the end of September, in time for the vital Christmas period.