Timothy Geithner tells banks to accept new rules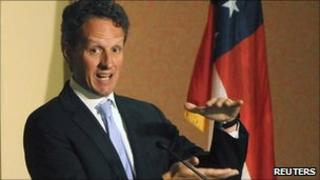 US Treasury Secretary Timothy Geithner has told US banks to accept new financial regulations instead of asking Congress to weaken them.
He criticised banking executives who are supporting Republican attempts stop the new laws being implemented.
He argued that big US banks should support the rules because it would be their foreign competitors who would benefit from any new loopholes.
Mr Geithner also criticised the UK's old "soft-touch" system of regulation.
Speaking at a banking conference in Atlanta, Georgia, he said: "The United Kingdom's experiment in a strategy of 'light touch' regulation to attract business to London from New York and Frankfurt ended tragically."
"That should be a cautionary note for other countries deciding whether to try to take advantage of the rise in standards in the United States."
The new banking regulations were passed last year, when the Democrats controlled both houses of Congress, in response to the banking crisis.
But recently Republicans and banking groups have been trying to find ways to delay or scale back the measures.
The reforms include tougher regulation of derivatives markets, forcing banks to hold more capital, and new rules for bankers' pay.
Mr Geithner also called for new global rules to govern the derivatives market.