Singapore Air in code share deal with Virgin Australia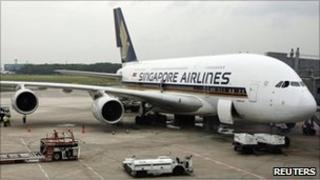 Singapore Airlines and Virgin Australia have entered a partnership which allows them to sell tickets and seats on each other's international and domestic flights.
The so called code-sharing agreement will mean passengers may purchase a seat with Virgin but the flight will be operated by Singapore Air.
The deal is subject to regulatory approval.
Asia is the world's largest and fastest growing market for air travel.
The agreement brings Singapore Airlines' international network together with Virgin's routes within Australia and the Pacific.
"It will enhance the attractiveness of Australia as a travel destination while also opening up new horizons for travellers from Australia," said Singapore Airlines head Goh Choon Phong in a statement.
Singapore Airlines passengers will be able to access a further 30 destinations.
While Virgin customers will be able to fly to 70 more places.
"Singapore Airlines' extensive network throughout Asia will be particularly attractive to our international business and leisure travellers," said Virgin Australia CEO John Borghetti in a statement.
Virgin already has alliances with Delta Airlines, Etihad and Air New Zealand.
Virgin, Australia's second largest airline, said the agreement with Singapore Air will also allow reciprocal frequent flyer programme benefits and lounge access.
The alliance goes into effect on 1 August.