May retail sales dip as customers 'reluctant to spend'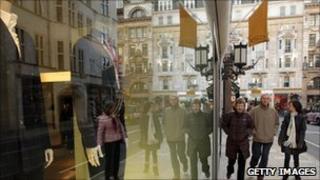 Retail sales dipped in May as a result of customers' unwillingness to spend, say retailers.
The British Retail Consortium (BRC) said May sales values, taking out the effects of closures and new stores, fell 2.1% compared with May 2010.
The BRC said the May figures were a more realistic reflection of the "tough conditions" on the High Street.
Rises seen in the previous two months had been "distorted" by a late Easter, an extra bank holiday and good weather.
Shoppers bought fewer items across the board, with sales of clothing, footwear and big ticket items all falling.
"These are poor figures. What we've seen here is food has been reasonably resilient but non-food has had a dreadful May," said Stephen Robertson, the BRC's director general.
"I guess people are saying 'we can put it off for another day before we buy a sofa or bed or other big items'."
The 2.1% fall refers to same-store sales - stripping out store expansions or closures.
The BRC said that overall sales were also lower, down by 0.3% on May last year.
'Early summer sales'
"After two previous months distorted by the later Easter and extra bank holiday, this is a more realistic reflection of how tough conditions on the High Street really are," Mr Robertson said.
"Customers' fundamental reluctance to spend is now clear to see."
He said May's figures were much more representative, as the three-month figure from March to May showed a like-for-like drop in retail sales of 0.4%.
But Richard Perks, retail analyst at Mintel, suggested that the previous distortion had also affected May's figures.
"April was exceptional because of the timing of Easter and because of the fantastic weather, and that 'feel good' factor that was around the royal wedding rather than the extra bank holiday," he told the BBC.
"I think that brought forward a lot of sales from May. It made early summer sales. So that's why I think that these May figures may not be quite as bad as they look."
Struggling retailers
The BRC said households' disposable incomes were being squeezed by high inflation and low wage growth.
Uncertainty over the effects of government cuts was also weighing down consumer confidence about their future finances.
Retailer Mothercare, the entertainment group HMV, the sportswear firm JJB and the electrical retailers Comet and Dixons have all announced store closures in recent weeks.
Focus DIY and wine merchant Oddbins have fared worse, both going into administration.
Mr Robertson also said that the government should stick to its deficit-cutting strategy, despite calls from the opposition for it to slow the pace of cuts.
"Now's not the time for zig zag economic policy. We need to continue to cut that deficit in order to have a better tomorrow," he said.