GMB seems in no mood for compromise on strike action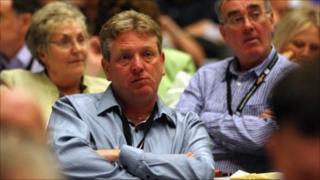 Anger: there was a lot of it about at the GMB's annual conference in Brighton.
Try as one might to avoid falling into cliches about the workers' struggle, the mood music was definitely more "Rage Against the Machine" than "Always Look on the Bright Side of Life".
"You can only kick a dog so many times before it rounds on you," said Jim Hiom, a GMB delegate from London. It was time for the union movement to bite back, he said.
His view - widely held by other delegates the BBC spoke to - was that confrontation with the coalition government over spending cuts is just a matter of time.
Bridge building
A speech to the conference by Business Secretary Vince Cable was booed and heckled. What Mr Cable's advisers say was an attempt to build bridges with the unions, was interpreted as a naked threat.
"He was just drawing up battle lines," said Linda Millar, a delegate from Scotland. "I don't think he should have been invited."
Mr Cable had warned of tougher laws on strikes if unions were seen to damage the economy with industrial action.
"We already knew where he stands," Ms Millar said, "and that's not alongside us."
Most delegates took their cue from Paul Kenny, the GMB general secretary, who said Mr Cable's comments were an "insult to working people".
Bob Crow, leader of the RMT rail union, said Mr Cable was "provocative and insulting".
Union leaders have warned that 750,000 civil servants, teachers, and other public sector workers could take strike action on 30 June in the biggest outbreak of industrial action for years.
Feeling the cuts
It is difficult to know for sure if the radicalism inside the conference hall is replicated outside it. But GMB officials believe it is; that people have reached a breaking point.
Each had their personal stories of the impact of spending cuts: the disability workshop being closed through lack of funding; the youths being paid below the minimum wage; the partially-sighted delegate facing a benefits re-assessment of his disability.
"And all this is even before the cuts really start to bite; before the mass redundancies kick in," said Mike Lancaster, a delegate from London. "It was Mr Cable himself who said some people might start talking about a summer of discontent. So be it."
There was agreement among delegates that previous eras of mass discontent had only served to weaken the trade union movement.
But the forthcoming battles of 2011 and 2012 would be different, they said.
"What is different about this fight is that it is not just about pay. It is about living standards and working conditions that people have become used to," said Ms Millar.
"The government thinks they can now just take these away. They are wrong," she said. "Don't underestimate the strength of feeling. We are closer to those suffering on the ground."
'Others' mistakes'
Another delegate, who asked not to be named, said people are far more knowledgeable about what he said was behind today's economic ills.
He reeled off a list of keywords: bankers, bonuses, hedge funds, big business, Wall Street.
"Your everyday worker won't stand idly by and suffer because of other people's mistakes," he said.
But what's the alternative to Chancellor George Osborne's deficit reduction plan - a plan that on Monday received endorsement from the International Monetary Fund?
"Osborne is cutting too deep, too fast," said Scotland delegate Patrick Duffy.
It is a familiar refrain, and one that is unlikely to carry much weight with the chancellor.
The GMB conference is the first in a series of big unions' annual meetings. The rhetoric is likely to get louder as the months roll on.
It is possible that the tit-for-tat between unions and politicians is all just shadow boxing before some negotiated resolution is found.
Except that, in the hot house of the Brighton Centre, it doesn't feel like that.