IMF set out a 'Plan B' for George Osborne
Paul Mason
Former economics editor, Newsnight
The IMF has spelled out a clear Plan B for George Osborne, should low growth and high-ish unemployment persist, but it is not the one he has been urged to adopt by Labour and is not needed yet.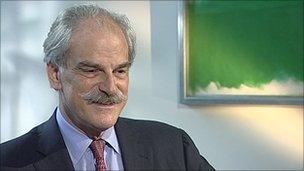 The IMF says there is, right now, no need for the government to change course on its austerity budget; the factors causing low growth and high inflation are, it believes, temporary.
It does not beat about the bush either. In the first paragraph of its Article IV consultation today, it raises the question of whether it is time to change macroeconomic policies. "The answer is no," it concludes. However, the need for a Plan B arises, says the fund, because there are "significant risks to inflation, growth and employment." (It doesn't call it a Plan B but an alternative scenario, and Mr Lipsky - of the fund - looked askance over his moustache when I called it a "plan" at all).
If low growth comes to pass - if growth stagnates and unemployment refuses to fall back - the IMF recommends a new round of quantitative easing by the Bank of England combined with "temporary tax cuts" aimed at people on low incomes, investment and job creation.
This is in line with what senior coalition figures have been briefing, that the "stabilizers" - in the form of increased cyclical spending on welfare benefits - would be allowed to rise; and that they would favour more QE from the Bank over any change to the spending cuts outlined.
The IMF makes a pretty strong signal to the Monetary Policy Committee (MPC) not to raise interest rates unless there's a take-off of inflation expectations.
Interestingly, there is also a Plan C spelled out, if low growth is combined with high inflation - because we've underestimated the long-term damage done by the crisis (ie over-estimated the output gap) - hike interest rates and increase austerity. The IMF would prefer Britain in this case to "do a Portugal" rather than "do an Argentina".
The government's special advisers were beaming from ear to ear and have a right to. The IMF has systematically gainsaid Labour and the economists who lined up over the weekend to call for a slowing down of austerity. It has, at the same time, said that if Plan B is needed it should be a monetary, not fiscal, stimulus that is deployed primarily, and where fiscal policy is involved at all it should be - as it was for Labour remember in late 2008 - tax cuts that kick in first.
We'll have the interim boss of the IMF, John Lipsky, on Newsnight tonight.