Poor nations boost arms spending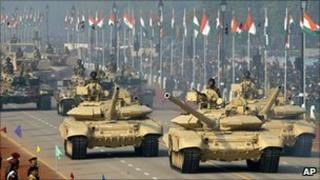 Military spending by major developing countries grew faster than the global average last year, according to the Stockholm International Peace Research Institute (Sipri).
Globally, military spending grew just 1.3% in 2010 - a notable slowdown compared with the previous decade.
This was partially a result of a "delayed effect of the global economic crisis", Sipri said.
Spending rose by 5.8% in South America, 5.2% in Africa and 4.1% in Oceania.
In Europe, military spending fell by 2.8%, data in the Sipri yearbook revealed.
The US remains the world's largest spender on the military arena, accounting for 43% of the global total of $1,630bn (£995bn)
'Upward trend'
The Sipri yearbook also highlighted how the world's 10 largest defence and security companies gained the most from military spending.
Seven of the 10 firms were based in the US, one in the UK, one in Italy, and one was trans-European.
These companies sold arms worth between $11bn and $34bn each during 2009, according to the most recent data.
"Arms producers and military services companies continued their upward trend in arms sales," Sipri's Susan T. Jackson observed in the yearbook.
The world's largest 100 defence and security companies, as per Sipri's ranking, clocked up sales of more than $400bn last year.
Military expenditure 2010
The rate of global military spending slowed last year after a decade of rapid annual growth. In total, military spending reached $1,630bn last year. The region with the largest increase was South America, reaching $63.3bn.
While there was a slowdown in European spending, the so-called BRIC countries continue among the big spenders. China and Russia are high in the table, while India and Brazil are both increasing their military expenditure.
US companies' dominance of the defence sector disguises a shift towards more off-the-shelf products being used, such as electronics. The line between who works in or outside the defence industry is therefore increasingly blurred.
Sipri experts say the increase in South American spending (5.8%) is surprising given the lack of real military threats to most states. Africa's estimated increase in spending (5.2%) was led by major oil-producers.
BACK
{current} of {total}
NEXT