What's driving China's pursuit of financial success?
By Michael Bristow
BBC News, Beijing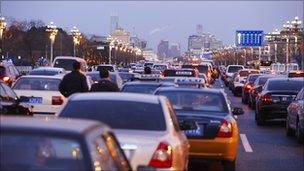 At Beijing's largest second-hand car market most customers go to buy run-of-the-mill family cars that sell for up to $10,000.
But many cannot resist taking a peek into a special area set to one side of this sprawling site - the hall reserved for luxury vehicles.
Inside, workers use elbow grease and polish to bring out the best shine on Ferraris, Bentleys and Porsches, all lined up in neat rows.
A few decades ago, when China was still trying to build a communist paradise, these symbols of wealth would not have been welcome on Beijing's streets.
Not any more. Former leader Deng Xiaoping is supposed to have declared that to get rich was glorious - and China's people have taken him at his word.
The wealthy were at one time persecuted - now they are viewed with respect.
And their numbers are growing. There are now more than one million dollar millionaires in China - and many millions more behind them who hope to emulate their success.
Li Yang, who runs a business selling construction materials, is one of these hopefuls.
The 25-year-old was in the Beijing Old Car Market, in the south of the city, with a group of friends, all of them looking to buy a car.
He only had enough money for a cheap vehicle, but could not stop himself popping in to look at some of the high-end models on sale.
Mr Li, from Shandong province, had his eye on a nearly new Bentley costing 3.4m yuan ($525,000, £320,000).
"I'd like to buy a car like this because it would raise my status - people would look at me differently," he said.
There was a similar comment from oil worker Li Hongquan, as he circled a clutch of shiny Land Rovers parked together.
"If a man drives a car like this it shows he has power and success," said the 45-year-old, who hopes to be able to afford one of the motors in a few years.
There has been a change in attitudes over the past 15 years towards people who have money, according to Rupert Hoogewerf, who runs the Hurun Report, a Shanghai-based company that publishes rich lists.
He said previously people with money had sometimes acquired it through connections rather than because of any skill.
"But entrepreneurs are now pretty respected for being very savvy and able business people," said Mr Hoogewerf.
"Several have become superstar entrepreneurs who have inspired young people to start their own companies."
This love of money - and respect for those who have it - has led to some interesting business opportunities.
A Beijing company is offering expensive 30-hour courses to young women on how to win the heart of a rich man. It has already trained hundreds of hopefuls.
The school also offers wealthy men - for a cost - the chance to meet eligible women.
But not everyone approves of these aspirations. Education officials in Guangdong province are piloting a scheme to teach young women about the dangers of becoming a rich man's mistress; loving money too much.
And even those shopping for designer goods in Sanlitun Village, an upmarket shopping centre in Beijing, are not entirely comfortable with the way things are.
Many think China's pursuit of wealth has created losers as well as winners.
The widening wealth gap is regularly cited as one of the country's main problems in surveys of social attitudes.
These well-heeled shoppers acknowledged China's amazing economic development since it opened to the outside world 30 years ago, but they are also worried about the problems that still need solving.
"The government's been trying its hardest to increase GDP - it's going up quickly every year. But ordinary people's living standards are not going up as fast," said one man, who declined to give his name.
And although most people in China, like elsewhere in the world, want to improve their lives, not everyone wants a billionaire's lifestyle.
Riding his electric bike, Yang Shunli regularly delivers food and water to those who work at the luxury hall of the second-hand car market.
"I don't envy people who can afford cars like that. It's just a car, they are no better than me," said the 18-year-old, before riding off for his next delivery.