Rolls-Royce and Daimler take control of Tognum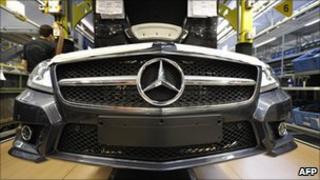 UK engine maker Rolls-Royce and German automotive giant Daimler have taken control of German engineering group Tognum after their latest offer was accepted by a majority of shareholders.
The offer, which values the company at 3.4bn euros ($5bn; £3bn), was accepted by 60% of shareholders.
The joint venture now controls almost 60% of Tognum.
Last month, the engine and turbine maker rejected the joint venture's bid of 3.2bn euros made earlier this year.
Daimler, which owns luxury carmaker Mercedes Benz, already owns a 28% stake in Tognum.
"Daimler and Rolls-Royce are very pleased with this convincing result," Daimler said in a statement.
"It represents a milestone in the takeover process of Tognum and lays a strong foundation for the future co-operation of the three companies."
Tognum is listed on the Frankfurt Stock Exchange.