Pensions: Age-gap 'widens' for retirement saving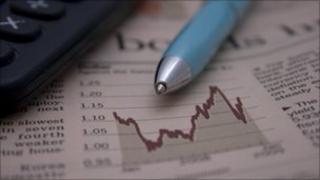 Those aged between 30 and 50 are falling behind older people in saving for retirement, a pensions report says.
Some 59% of those aged over 50 are preparing financially for their retirement compared with 47% of those aged 30 to 50, the Scottish Widows survey found.
A fifth of the 5,200 people asked in the poll are failing to save anything for retirement.
Savings in the UK are at a lower level than in France, Germany and Spain.
Gender gap
The survey, conducted for Scottish Widows which is itself a pensions provider, suggested that on average people would like £24,300 a year to live comfortably at the age of 70.
Pensions experts say it would require a large pension pot to be saved by each individual to achieve this level of retirement income, and the report suggested that people were falling some way short.
Figures compiled by Hargreaves Lansdown found that people would need to build up a pot of £425,000 in order to gain that level of retirement income, allowing for inflation.
Compound interest means that starting to save early leads to a greater pension pot than saving more at a later date.
So a 25-year-old investor, together with his or her employer, would need to save £420 a month. A 35-year-old would need to save £690 a month, and a 45-year-old would need to save £1,250 a month.
"There is a huge gap between the income people want in retirement and what they are on course to get," said Tom McPhail, head of pensions research at Hargreaves Lansdown.
Some 49% of those surveyed in the Scottish Widows report were not making adequate provision for their retirement - defined as saving at least 12% of earnings a year, Scottish Widows concluded.
This figure has never been below 46% or above 52% in the equivalent surveys from the past five years.
"We appreciate the difficulty in setting aside extra money," said Ian Naismith, from Scottish Widows.
"The message is that everyone should be putting aside as much as they can afford for their retirement."
This year's report found that women were catching up with men - with 53% of men preparing adequately for retirement compared with 50% of women.
Automatic saving
From October 2012, a system of automatic enrolment into a workplace pension scheme will be phased in by the government.
The Scottish Widows report suggested that support for automatic enrolment appeared to be "reasonably strong", but the amount people were preparing to contribute to their pensions would still be too small for a comfortable retirement.
It called for a change to the terminology used by the government that would make people aware of how much support they would receive from the state.
This could include expressing the proposed flat-rate state pension as £7,300 a year, rather than £140 a week.
"The successful implementation of automatic enrolment, combined with state pension reform, could help galvanise consumers into action to think more about how much they are saving and when they start to make provisions," said Mr Naismith.
"However, these measures need to be accompanied by a clear message that most people need to see these as the foundation for their retirement savings rather than the full solution."
Scandal
A spokeswoman for the Department for Work and Pensions said the reforms of the pension system were designed to encourage more people to save for their retirement.
"It is good news that the majority of people surveyed are planning to stay automatically enrolled in their workplace pension," she said.
"Automatic enrolment will be a welcome boost for those who are struggling to save on their own and will mean that five to eight million people will be saving for the first time or saving more for their retirement with contributions from their employer."
Ros Altmann, director-general of Saga, said: "A few years ago people were either burying their heads in the sand or really had no idea that they needed to save a lot more if they wanted to have a decent pension.
"Certainly after lots of headlines and lots of scandals, people now know that they are going to need to do something to save for their retirement.
"I think a lot of people have lost faith in pensions and, of course, with pensions you have to put your money in when you are young and then you do not ever see it back again for many decades."