Southern Cross care homes: GMB urges government support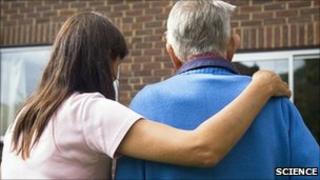 The government has been urged to support care home firm Southern Cross.
Delegates at the GMB union's annual conference in Brighton backed a motion calling on the government to step in.
Business Secretary Vince Cable told the conference he had asked his department to look at the role of private equity in providing public services.
Troubled care home provider Southern Cross, which is struggling to survive, was owned by private equity firm Blackstone from 2004 to 2007.
Blackstone has been criticised for its actions while it owned the company, but Blackstone denies it is responsible for Southern Cross's financial woes.
Separately, Darlington-based Southern Cross said it would hold a general meeting on 12 July, where it will provide shareholders with an update on its financial position.
'Ultimate responsibility'
At the GMB's conference, the union passed an emergency motion on Southern Cross.
The motion read: "The uncertainty over Southern Cross must be lifted immediately and Congress demands that government offers sufficient support to ensure Southern Cross does not fail, so that the worries of the 31,000 residents and their families and the 44,000 staff are eased.
"To that end the question must be answered - who has the ultimate responsibility for the 31,000 elderly and vulnerable residents and who has the power to end the uncertainty for them and their families?
"Government must immediately appoint a cabinet minister charged with ensuring a continuity of care for the 31,000 residents of Southern Cross and guarantee that no homes close and no resident is turned out or forced to move against their will."
High rents
Blackstone bought Southern Cross for £162m in 2004.
It floated the company in 2006 and when it sold its remaining stake in 2007, Southern Cross was valued at about £770m.
In a statement last week, Blackstone said: "Blackstone, which manages assets on behalf of its investors, has not controlled Southern Cross since its IPO five years ago in July 2006.
"As with any investment formerly owned by the funds we manage, Blackstone was not responsible for the wider economic climate and controlled neither the debt levels nor any additional transactions entered into by the newly independent public company."
Under the terms of its leases, Southern Cross faced inflation-linked rents and these have grown to the current level of about £180m a year.
The company has been forced to defer 30% of its rent for four months while it tries to resolve its financial difficulties.
Southern Cross, which looks after 31,000 residents across 750 homes, reported half-year losses of £311m last month and warned that it was in "critical financial condition".
Meanwhile, reports suggest Southern Cross is considering selling up to 200 of its homes as it tries to avoid bankruptcy.