Australia's property prices raise valuation concerns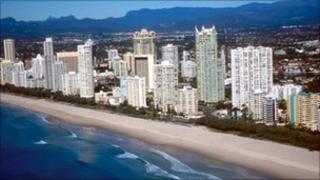 It's a question that exasperates and divides a nation. Is Australian housing wildly overpriced and heading for a nasty fall, or it it simply taking a breather after a period of very strong growth?
The market has softened in recent months and prices have dipped by about 1.5%.
As mortgage holders breathe a sigh of relief that the Reserve Bank has not raised the cost of borrowing in the country, the underlying health and future direction of the residential property sector provokes sharply differing views.
'Bubble territory'
Gerard Minack, an economist at Morgan Stanley, tells the BBC that the market is in a precarious position, although a collapse is unlikely.
"I think without a doubt it is overvalued," he says.
"Australian property is 30-40% above fair value, so that to me is bubble territory," he adds.
Mr Minack explains that prices began to soar in the late 1990s and early 2000s, a surge fuelled by cuts to capital gains tax and financial deregulation that made big mortgages more available.
It was time when access to credit was easier, and as Australian banks lent more, consumers took on more debt and real estate prices rocketed.
Now, though, home values have "wobbled", according to Mr Minack, because cautious households are saving more, which dampens demand.
Brisbane and Perth are the worst performing cities.
So does he think the bubble is about to be punctured?
Probably not, although it may shrivel as prices dip, he predicts.
"This is a market that is vulnerable. I am not expecting a collapse," he says.
"To get a collapse in Australian property prices you really need to see broad-based job losses, something I can't see on the immediate horizon," Mr Minack adds.
'Significant adjustments'
Research by the International Monetary Fund has also suggests that Australian house prices are overvalued, but that stark assessment has its critics.
Tim Lawless, Brisbane-based research director at rpdata.com, which provides services to the real estate, banking and finance industries, challenges the notion that property prices are 40% too high.
"There have been some significant adjustments in the market really between 2001 and 2004 when we had quite a large boom in property values," he says.
"Since that time we have seen growth rates moderate."
Mr Lawless says the result is a "softer" market that has been subdued by interest rate rises and is now winding down following a strong growth cycle.
He predicts only small reductions in house prices but also warns that some lean times lie ahead.
"We don't expect any real capital growth to return to the market for at least 18 months," he says.
"Stock levels are quite high and consumers in Australia are simply focused on saving. They are really drilling down debt," Mr Lawless adds.
Uncertain future
For now, Australia's residential real estate sector appears to be hibernating.
Meanwhile, Morgan Stanley's Gerard Minack has this advice for investors thinking of buying into a slowing market: don't.
"It will be a terrible investment if you buy Australian property today. Australian housing will not make you rich," he says.
Others believe, however, that Australia's obsession with property - combined with a buoyant economy, low unemployment and a lack of supply - will eventually help to reawaken a slumbering housing market.