Resourcehouse cancels Hong Kong IPO for fourth time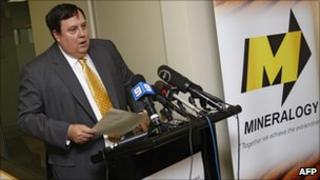 Australian mining company, Resourcehouse, has cancelled plans to list on the Hong Kong stock exchange, citing deteriorating market conditions.
The company had planned to raise as much as $3.6bn (£2.2bn) in order to develop its Queensland coal mine.
This is the fourth time that the company has abandoned its share sale since first announcing plans to go public in 2009.
The company is controlled by billionaire Clive Palmer.
"The Board of the company has decided not to proceed with the proposed global offering at this time given global market conditions," the company said in a statement.
'Over priced'
Resourcehouse had set an indicative price range of HK$4.48 to HK$ 4.93 for its proposed share sale.
There were concerns that the company had set the price range too high and as a result, investor interest was not as high as it had expected.
Last week, there were even reports that it had offered to lower its share price by as much as 30%.
The company has denied those reports.
"The Board wants to emphasize that there was no decision made at any time to change or modify the terms of the Global Offering," it said.
However, some analysts believe that the company's decision to abandon the share sale shows that investors weren't too keen on the stock.
"I think if anything the decision to withdraw is an indication that the offer was over priced," said Jonathan Barratt of Commodity Broking.
"They (Resourcehouse) are feeling that numbers aren't stacked up for this to be a successful share sale," he added.
Losing Momentum
Australia's mining sector has witnessed robust growth in the past few years.
The growth of emerging economies like China and India saw a surge in demand of minerals and other resources from the country, driving up profits at the leading miners.
However, some analysts believe that as growth in these economies slows down, investors are becoming less optimistic about Australia's mining sector.
"This is a reflection of the overall feeling in Australia's mining sector," said Mr Barratt.
"The expectations are for growth in the sector to slow down," he added.
Mr Baratt also said that investors are also concerned about a the profits at Australian miners being hurt.
"As demand slows down, the prices of minerals will fall and that will have a negative impact on profits," he said.