Chrysler: US Treasury confirms $500m sale to Fiat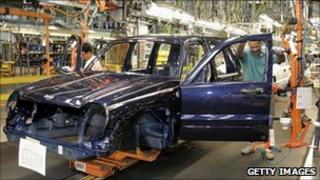 The US Treasury has confirmed it will sell its remaining 6% stake in Chrysler to Fiat for $500m (£306m).
The sale will sever the US government's last ties with the Detroit firm, which it rescued from bankruptcy in 2008-09.
It will also give the Italian carmaker a 52% majority stake in the US firm.
The deal - which was formally announced by President Obama at a visit to a Chrysler plant in Toledo, Ohio - is expected by Washington to leave it with a $1.3bn loss on the Chrysler rescue.
'Improbable turnaround'
The US Treasury originally provided $12.5bn in emergency loans to the troubled carmaker during the financial crisis and recession.
Treasury Secretary Tim Geithner said it was "one of the most improbable turnarounds in recent history" and has insisted that the government's intervention was aimed at saving US jobs, and not at making a profit.
Since briefly entering bankruptcy during 2009, the firm has returned to strong profitability under Fiat's guidance, recording a profit of $116m in the first three months of this year.
As well as the equity purchase, Fiat has also agreed to pay an additional $75m - split $60m to the US government and $15m to Canada - to buy out an option on Chrysler's shares currently held by the United Auto Workers retiree trust.
The deal could take up to three months to get necessary regulatory approvals, the Treasury cautioned, but is expected to go through more quickly than that.