MGM China shares rise 2% on debut, after strong start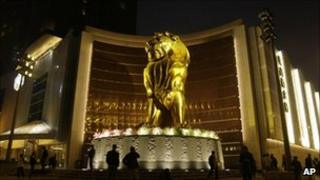 MGM China has made its debut on the Hong Kong stock exchange as investors continue to bank on Macau's gambling boom.
The shares ended the day up 2% at HK$15.62. During the session, the company's shares rose as much as 6%.
MGM China is one of only six companies that have licences to operate casinos in Macau.
The company priced its stock at HK$15.34 per share, the top end of its expected range, raising $1.5bn (£912m).
Gambling revenues in Macau have been rising, turning it into the world's biggest gambling market.
Booming market
Major Asian economies are witnessing robust growth, which has helped revenue and profits of Macau's casino operators rise substantially.
Gambling revenue in Macau surged 57% in 2010 to $23.5bn (£14.4bn).
As a result, investors have made a beeline for shares of the leading operators in the territory.
Shares of SJM Holdings, the largest casino operator in the territory, have risen by 240% in the past year.
Galaxy Entertainment, which runs six casinos in Macau, has seen its stock price surge by 380%.
Analysts say that as the profile of Macau keeps rising, investors are betting on the operators in a bid to grab a share of the success.