Betfred is the winning bidder for the Tote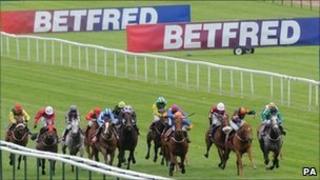 UK-based bookmaker Betfred has been chosen to buy the Tote after an auction process that began in November.
BBC business editor Robert Peston said Culture Secretary Jeremy Hunt had chosen Betfred although the deal had not been completed, with some technicalities still being sorted out.
The price is not yet known but Betfred is thought to have bid about £200m.
Half of the fee will go to the racing industry and racing charities, and most of the rest will go to the government.
The racing industry may be disappointed, because it was understood to have preferred the rival bid from SIP, a consortium led by British Airways chairman Martin Broughton.
Successive governments have been trying to privatise the Tote for about 14 years, but have never come this close to doing so.
The government is hoping that the deal will not fall foul of EU state aid rules or be overturned by a judicial review.
Jockey opposition
The Tote was set up 83 years ago to provide a safe haven for punters, controlled by the state, and beyond the reach of illegal bookmakers.
It enjoys a monopoly of horse race pool-betting in exchange for a guarantee that money was pumped back into the sport.
The Tote is based in Wigan, with more than 4,000 staff, and currently injects half its profits into racing.
Last year, Chancellor George Osborne promised to secure value for taxpayers while recognising the support the Tote gave to the industry.
The Tote gave almost £19m to horse racing in 2010.
Efforts over the past three years to sell off the Tote hit problems, and the government faces getting a lower price than the £400m mooted in 2007.
The Jockey Club opposes the sale and wants the Tote to remain independent.
The Tote has 517 High Street betting shops and the monopoly to run pool betting online and at 60 racecourses in the UK.