Groupon share offer to raise up to $750m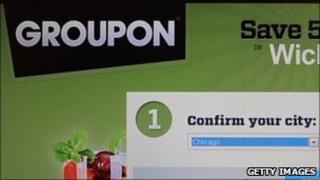 Daily discount website Groupon is seeking to raise up to $750m (£460m) in an initial public offering (IPO).
It is the latest move by an internet company seeking to cash in on investor appetite for social media firms.
Last month, business networking site LinkedIn saw its shares more than double in value on their first day of trading after the company went public.
IPOs are when companies list their shares on the stock market for the first time.
Groupon offers daily discounts to members on items ranging from meals out and beauty treatments to flying lessons.
The offers are typically available for a set period and for a limited number of buyers.
Groupon then takes a commission of 30-50% from the merchants who provide the services.
The company has 83 million members in 43 countries and employs more than 7,000 staff.
'Twists and turns'
Groupon was founded in November 2008 and is yet to make a net profit.
It brought in revenues of $644.7m in the first quarter of 2011, but made a net loss of $146.5m after investing in growth, especially overseas.
In December it turned down a $6bn takeover offer from Google.
"As with any business in a 30-month-old industry, the path to success will have twists and turns, moments of brilliance and other moments of sheer stupidity," Groupon chief executive Andrew Mason said in a letter to potential shareholders that was attached to the IPO filing.
The filing did not specify the number of shares to be sold, the price range, or the stock exchange it would list on.
But it did say shares would trade under the symbol "GRPN".